Creative Exchange is Creative Victoria's professional development program which focuses on the business of being a creative.
We're partnering with ArtsHub in 2023 to deliver a new series of webinars for people working across the arts and creative industries. Free and open to all, the Creative Exchange Webinars offer access to experts, practical guidance, insights, ideas and trends to help you navigate the new creative landscape and thrive.
---
What is the Creative Exchange?
Creative Exchange is a long running professional development and networking event program available to anyone working in the creative industries who wants access to the most up-to-date information across the sector.
These free or low cost, monthly events host national and international experts from across the arts, culture, screen and design sectors and cover a wide range of topics. We look forward to welcoming you at our next event.
---
Managing the business of creative practice: an expert roundtable
When: Thursday 28 September 2023, 2pm - 3pm AEST
Cost: Free, but bookings essential via the link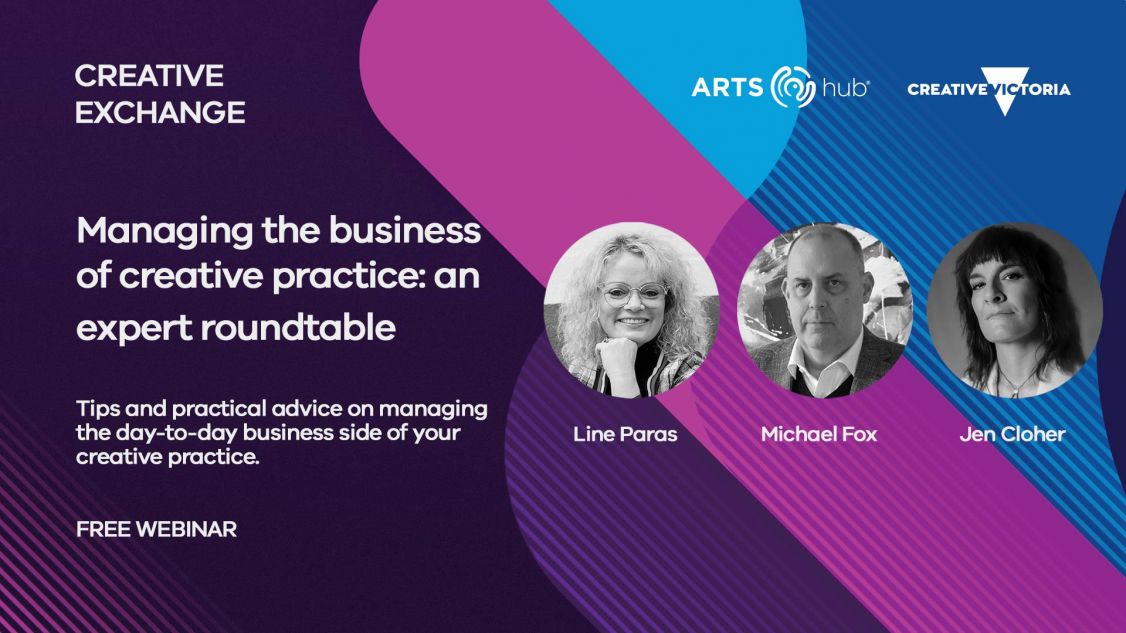 Are you a creative sole practitioner or micro business bursting with creativity and artistic potential, only to find yourself facing struggles with the nuts and bolts of running your business? The next free webinar in the Creative Exchange program, presented by Creative Victoria and ArtsHub, will provide tips and practical advice on managing the day-to-day business side of your practice, plus pointers as to where to go when you need expert business advice.
The webinar will feature insights from Line Paras, an accountant who specialises in the creative and performing arts who is also the SHE-E-O at Counting Clouds. She'll be joined by award-winning singer-songwriter and Milk! Records co-founder Jen Cloher and arts accountant and valuer Michael Fox. The trio will deep dive into their experiences, successes, and lessons learnt along the way to arm you with the knowledge and skills to overcome the hurdles of running an arts business.
Meet the presenters
Line Paras is the founder of Counting Clouds, a Fitzroy based firm that provides bookkeeping, accounting and business support services to artists and musicians and other creative small businesses. Line dreamed up Counting Clouds in 2011. She had been studying bookkeeping while on maternity leave and knew she had to make herself a job that would accommodate motherhood and also earn her a living. There weren't many specialist bookkeepers servicing creative small businesses at that time and it made sense to focus on a niche market, using cloud accounting technology while working within and around Line's existing network.
Jen Cloher (Ngāpuhi & Ngāti Kahu) is a songwriter and performer living on unceded Wurundjeri land in Naarm (Melbourne) Australia. Cloher's taut, terse brand of rock is charged with the static tension that comes with being an eternal misfit; they have spoken truth to power with the shrewd eye that only an outsider can possess. Admirers have naturally gravitated towards Cloher's incisive, generous songwriting. Over the course of five albums, they have won a J Award and an AIR Award and been nominated for an ARIA and the Australian Music Prize.
Michael Fox is the Principal of Michael Fox Arts Accountant & Valuer and the Director of Fox Galleries. He is a certified accountant, fine art valuer and art collector. He holds a Master of Tax from the Melbourne Law School, University of Melbourne. Fox is a member of the Auctioneers and Valuers Association of Australia (AVAA) and is a Fellow of the Institute of Public Accountants.
---
Mind Games - Mental health and the world of digital games
When: Thursday 5 October 2023, 11am - 12.30pm (approx.)
Venue: Swanston Hall, Melbourne Town Hall, 90-130 Swanston St, Melbourne Cost: Free, but bookings essential via the link
Register for Mind Games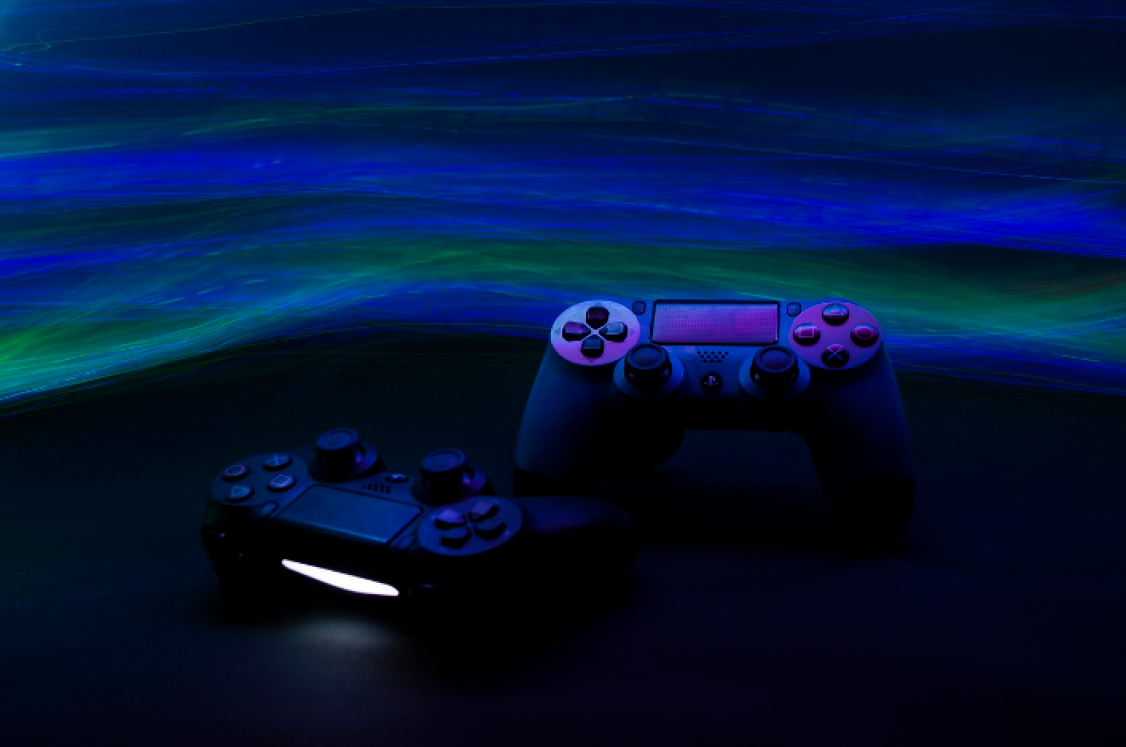 ---
According to the latest data, there are approximately 3.09 billion active video gamers worldwide. That figure has risen by over 1 billion in just seven years and is expected to hit 3.32 billion by 2024.
As the world of digital gaming grows exponentially, a new avenue of research examining how video games can be valuable tools for self-exploration and positively influence mental well-being has also emerged.
This Creative Exchange brings together moderator, Holly Ransom, with three eminent international guests - Sarah Sorrell, Dr Vasilios Stavropoulos and Darren Vukasinovic - to discuss why people game, where gaming and mental health can intersect, and how gamification is being employed across many different industry sectors to improve mental well-being.
Tea, coffee and refreshments provided.
Meet the presenters
Dr Vasileios Stavropoulos is an academic and professional clinical psychologist. His research battles the health risks and embraces the benefits of digital gaming usage via focusing on the exploration of risk and protective factors, measurement issues, elements that make gamified applications engaging, and digital phenotyping for mental health. He currently works as an Associate Professor in psychology at RMIT University.
Darren Vukasinovic is an immersive installation artist who creates experiences that intersect technology, art and narrative. He creates immersive realities in the physical world with no apparent layers of technology to inspire individuals, challenge human perception, build empathy and shift consciousness. His work is built upon foundational principles derived from neuroscience, psychology, mythology and spirituality, creating spaces that evoke curiosity in the conscious mind in order to influence the subconscious in positive and meaningful ways.
Holly Ransom is the founder and CEO of consulting firm, Emergent; author of The Leading Edge; co founder, chief curator, and catalyst at Energy Disruptors, winning 'Best Conference' in Canada for its work up catalysing collaboration across the energy industry. As a renowned speaker and master interviewer, Holly has led discussions with influential figures such as Barack Obama, Malcolm Gladwell, Billie-Jean King, Condoleezza Rice, Prime Minister Julia Gillard, Nobel Prize Winner Muhammad Yunus, and the world's first humanoid robot, Sophia.
Sarah Sorrell is the Charity Director for Safe In Our World. Prior to Safe In Our World she worked in the sports sector where she developed mental wellbeing initiatives for young people to help them build mental toughness. She has always been an advocate for mental health and wellbeing, and truly understands how important it is to take mental health as seriously as physical health, especially in the workplace. She hopes to banish all stigma relating to mental health, and truly make it a natural topic of conversation.
---
Subscribe to the Creative Exchange newsletter
---
More resources
Our Artist Essential Toolkit series focuses on snappy advice for making money from your art, including podcast production, selling art online and social media best practice. Watch the series via the link below.
---
Take a look at the resources we have from the Creative State Summit where people working across the creative industries come to learn from leading thinkers and practitioners from across the cultural landscape.
---
Watch Andrew McIntyre from MHM talks through the findings of the Audience Atlas
Creative Exchange video resources