Creative Exchange is Creative Victoria's professional development program which focuses on the business of being a creative.
We're partnering with ArtsHub in 2023 to deliver a new series of webinars for people working across the arts and creative industries. Free and open to all, the Creative Exchange Webinars offer access to experts, practical guidance, insights, ideas and trends to help you navigate the new creative landscape and thrive.
---
A new way forward: how inclusive leadership is driving change
When: 11am June 2, 2023
Who: Katrina Sedgwick, Director and CEO of Melbourne Arts Precinct (MAP Co) and Dewi Cooke, CEO of The Social Studio.
In this FREE webinar presented by ArtsHub and Creative Victoria; Katrina and Dewi will discuss current best practices in leadership that are collaborative, inclusive and diverse. While also exploring pathways for developing future leaders.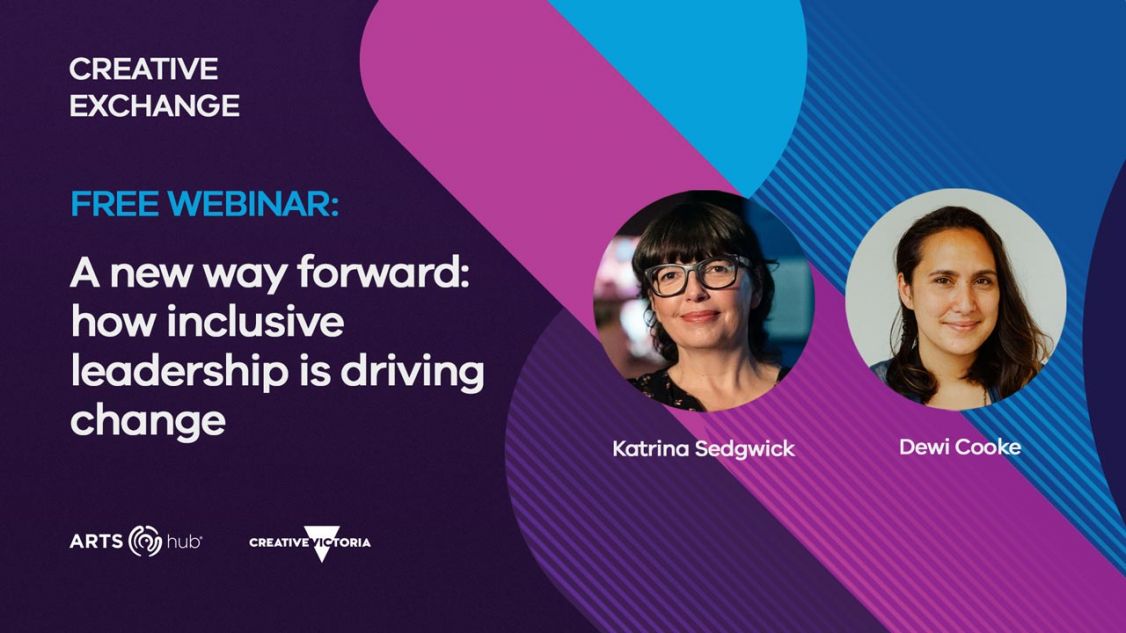 Register now
What is the Creative Exchange?
Creative Exchange is a long running professional development and networking event program available to anyone working in the creative industries who wants access to the most up-to-date information across the sector.
These free or low cost, monthly events host national and international experts from across the arts, culture, screen and design sectors and cover a wide range of topics. We look forward to welcoming you at our next event.
Stay tuned for events. Sign up to the Creative Exchange newsletter.
---
Our Artist Essential Toolkit series focuses on snappy advice for making money from your art, including podcast production, selling art online and social media best practice. Watch the series via the link below.
---
Catch up viewing
Thinking outside the box: What the creative industries can learn from innovators in other fields
Speakers: Peter Tullin (REMIX) and Lara Thoms (ArtsPay)
The 2023 series begins by looking outside of the creative sector. What bold ideas and trends could creatives adapt to use in their own organisations? How will technological advances and new business models change the way we work and shape opportunities up ahead?
Putting accessibility first for your event
Arts Access Victoria's Caroline Bowditch offers ideas on how to not only welcome a new audience but include performers of all levels of ability, in order to make an event that everyone can attend.
Webinar filmed on Wednesday 24 November 2021. Produced in partnership with Arts Hub.
Preparing for a National Arts, Culture and Creativity Plan
What should be on the agenda for a National Arts, Culture and Creativity Plan, and how can Victorians contribute to it?
Join Kate Fielding, A New Approach's CEO, as she explores how we can build a cogent and connected policy for arts and culture across the whole nation and how Victorians can get involved.
Drawing inspiration from the Federal Government's Sport 2030 plan, A New Approach has argued that we need to put the arts at the centre of our cultural conversation and link up different levels of government with a national approach.
A New Approach (ANA) has contributed to a distinct shift in the conversation and knowledge about arts and culture in Australia. Under Kate's leadership, a unique alliance of people across the country in governance, advisory and staffing have created a foundation to contribute collaboratively in shaping the future of creative industries.
---
More resources
While you're here, take a look at the resources we have from the Creative State Summit where people working across the creative industries come to learn from leading thinkers and practitioners from across the cultural landscape.
Watch Andrew McIntyre from MHM talks through the findings of the Audience Atlas
Creative Exchange video resources