The performers you see on stages at RISING shows are just a fraction of the people who make the annual festival happen. Along with some 800 artists, the event employs more than 1000 staff including hospitality, production crew, cleaners, security staff and more. As RISING gears up for another year, we chat to some of the people behind the festival.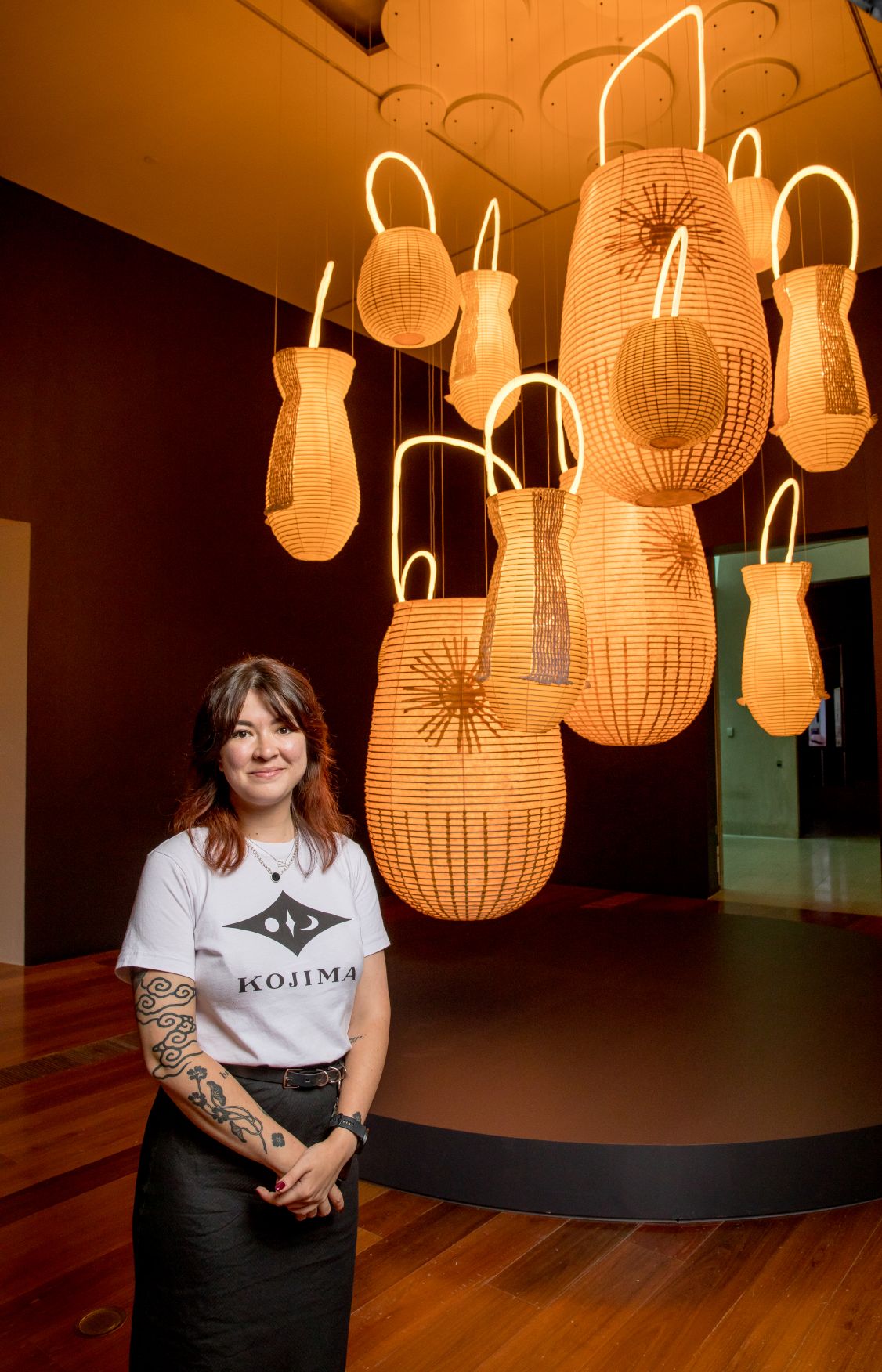 RISING's moon posters and distinctive imagery are popping up all across the city and beyond and the creative mind behind the design is artist and graphic designer Jenna Lee. In addition to creating RISING's moon logo, Jenna created the brand identity for RISING's history making First Peoples exhibition Shadow Spirit.
Tell us about your creative practice and background.
I am a Gulumerrejin (Larrakia), Karrajarri and Wardaman graphic designer and contemporary artist currently living and working as a guest on the unceded lands of the Bunurong Boon Wurrung and Wurundjeri Woi Wurrung peoples of the Eastern Kulin Nation, Naarm (Melbourne). I have a Bachelors in Visual Communication Design from the Queensland College of Art, Griffith University and a Post Graduate Certificate in Museum Studies from the University of Queensland, both in Meanjin (Brisbane).
---
Meet the creatives behind RISING
---
Where else can we see/have we seen your work?
I design book covers, so I would say in any good bookstore! I recently designed a series for University of Queensland Press titled First Nations Classics which is a series of eight (for now) seminal works by First Nations authors as well as Me, Her, Us by Yen-rong Wong, soon to hit the shelves.
Other recent releases that are out now have been Personal Score by Ellen van Neerven and The Voice to Parliament Handbook by Thomas Mayo and Kerry O'Brien. This year I have, at any point, been working on at least three books, sometimes more.
As an artist, I am currently showing in Melbourne Now at the NGV and TarraWarra Biennial 2023: ua usiusi faʻavaʻasavili, where I also designed the Biennial's identity. I'll also be having a small solo show at MARS Gallery (where I am represented) in July.
What was your inspiration for RISING's design identity?
RISING has such an incredible and recognisable brand - the part I played this year was to create the 'New Moon' which is the circular graphic that changes each iteration of the festival. It was such an honour to be asked.
I worked on the Shadow Spirit identity, which is a new First Peoples exhibition in Flinders Street Station's rooms, and during that process, the team asked if I would also design the New Moon. This is such a huge compliment - to have your work and way of working seen and then to be asked to do more.
I was given the brief to capture 'collective effervescence' which is a term used to describe the energy and joy of experiencing things together as a collective. For this, I wanted to capture that 'bubbling' feeling so I quite literally blew bubbles. I used a small bowl, filled it with water, dishwashing liquid and black sumi ink, and then using a metal straw, blew bubbles into it and made prints from the bubbles. All I had to do then was change the colours in Photoshop and we had the RISING 2023 New Moon!
There was beauty in the simplicity and in the act of physically making outside of the computer, something we are all craving after our lockdown years.
What does being involved with a major creative event like RISING mean to you?
It's the kind of thing that I could have only dreamed of as a design student ten years ago.
I have been so lucky to be an artist in the first RISING Festival with vinyl hoarding on Swanston Street as a part of Moving Objects. To now be involved in two design projects feels like a total dream come true.
The team at RISING have also always been so open to the ways in which, as a First Person designer, I wanted to visually incorporate culture, what was appropriate and how that would come about.
If RISING was the only design work I did for 2023 I would be happy, luckily it's not, but it's such a thrill to walk past the paste-ups around the city, I can't wait to see the bubble moon on flags!
What are you most looking forward to seeing at RISING?
While I am absolutely biased, having designed the identity and graphics, I am so excited for Shadow Spirit curated by Kimberley Moulton.
Even if I hadn't been personally involved, this is such a huge show of new commissions from some of this continent's most incredible First Peoples artists, being held in such an iconic location (Flinders Street Station Ballroom) it's hard not to be excited about it.
It's the one I am telling everyone about and cannot wait to see it for myself.
What advice would you give to someone wanting to start out in your field?
Design is an amazing career - especially to support myself as a practising artist, I call it my 'trade'. It's a skill people are willing to pay for upfront and I get to be inspired by others' ideas, bringing them to life. This gives me freedom in my own art practice to take some risks without the fear of needing to sell the work.
I had a very traditional pathway - university, internship, a junior at an agency - through to lead senior at an agency until finally, freelance - it worked amazingly for me. I would say that 'doing your time' in a design agency was really important for me. I learned how to work in faced paced environments and the need to be multi-skilled. This also really helped me work out not only what I enjoyed, but what I was actually good at. It was hard work and I didn't always do projects that I enjoyed, but there is data to be gathered in doing that, reflecting on why not/why you enjoyed a particular project is really helpful in the early days. Without those skills, I would never have been able to be full-time self-employed. I am practically a one-person agency these days (which has its own challenges I am still working out) – but I needed to see how to operate professionally.
I now only design book covers as well as identities and catalogues for the arts sector - I knew that this was an area I wanted to work in because, during my seven years at a design agency, I realised I was really good at it, and really loved typesetting and document design - and importantly, realised I am awful at designing websites.
When I started out freelancing I said yes to everything (as long as it wasn't websites) and was able to build a wonderful client base but also a really targeted portfolio of the work I wanted to be doing.
There have been a few occasions now that I have both been the designer on the exhibition identity/catalogue and been an artist in the show. I have been designing for ten years now after graduating my design degree in 2013, and reflecting back, I am so happy I stuck with it when it was challenging.