Abstract artist Matthew Clarke has developed his creative practice and grown his profile from the hamlet of Kirkstall, near Warrnambool, taking his work to the rest of Australia and beyond.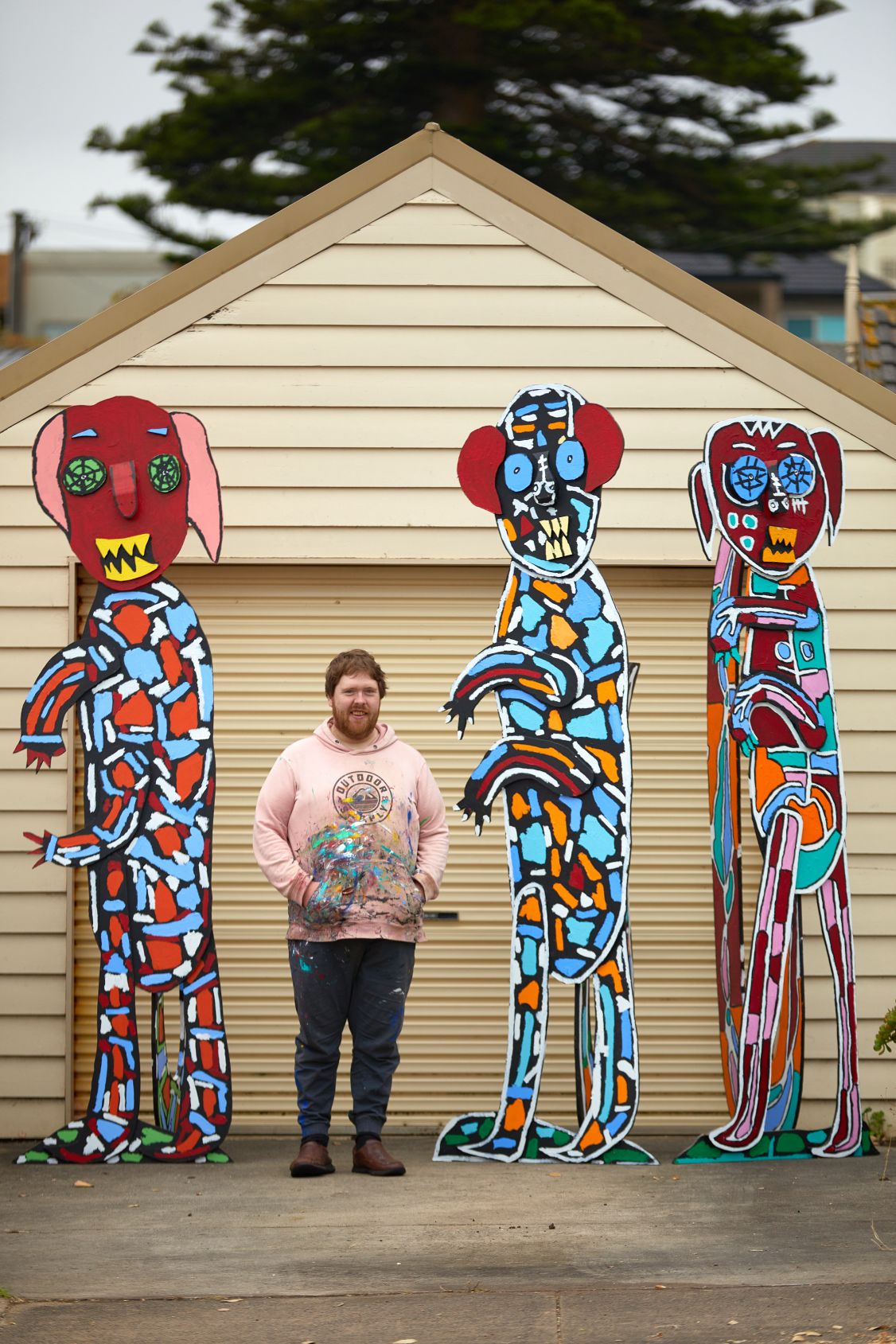 Clarke has been a finalist in the coveted Archibald Prize, has seen his work on Melbourne and Adelaide trams, and exhibited in galleries across Australia.
Specialising in acrylic painting, murals and linocut, Matthew's work has themes of the people who are closest to him and cityscapes inspired by travel.
Matthew is one of the many local contemporary artists to exhibit work at Melbourne Now, a free exhibition at the Ian Potter Centre: NGV Australia, that celebrates new and ambitious local art and design. His work can also be enjoyed as part of the 2023 RISING festival which will see a mob of giant wallabies created by Matthew displayed along Birrarung Marr.
Tell us a bit about your creative practice.
I thrive on acrylic paint. I paint on linen, wooden sculptures and paper. I have also been making linocuts and drawing with pen and ink on paper.
---
Meet the creatives behind RISING
---
How did you start out as an artist?
In 2005 I commenced studying art, craft and design at South West TAFE in Warrnambool. On the first day I met my long-term mentor Glenn Morgan. Glenn says that he showed me where the paint was and how to wash the brushes and then I took to it like a duck to water – this is only partially true, and I have been refining my technique over the last 18 years.
What do you draw inspiration from?
I draw inspiration from wallabies, chess, travel, birds, old mills/windfarms, people, and colours and proportions.
What work of yours are you most proud of?
This is a tough question because I put passion and energy into all my work. It is hard to choose a single piece, but my latest work is 20 wallaby sculptures between 1.8 and 2.8. metres high (and I have favourites amongst the 20 wallabies). These wallabies have been commissioned by the RISING Festival, to be exhibited along the banks of the Yarra River in central Melbourne from June 7-18. I am also fond of my painting South Perth: The Old Mill Abstracted. This is in the ArtBank collection.
Tell us about your work that is currently on display at the NGV's Melbourne Now exhibition.
It is a linocut about a family story about me being lost in the Melbourne Zoo from my dad and uncle's care. It features wallabies, caged animals and me. The linocut will become part of the National Gallery of Victoria collection which gives this piece of work a little bit of immortality.
Where else can we see your work at the moment?
I have two pieces in the Art Gallery of New South Wales. I have a wallaby sculpture which is part of Wynne Prize and I have a painting (self-portrait) which is part of the Sulman Prize. The exhibition runs until 3 September 2023 at Art Gallery of New South Wales.
My works are also on the White Columns curated Artist registry online in New York. My Instagram is my favourite outlet for showing my work and talking about my life.
What are you currently working on and what do you have coming up?
In three words, describe Victoria's creative community.
Supportive. Diverse. Exciting.
Matthew Clarke was a recipient of Sustaining Creative Workers funding through Creative Victoria in 2020.
Melbourne Now is on until August 20 at the Ian Potter Centre: NGV Australia. Entry is free.