First Peoples designer Denni Francisco doesn't just make exquisite clothes. Through her Ngali label, she's built a platform for First Peoples creatives to collaborate and showcase their talent.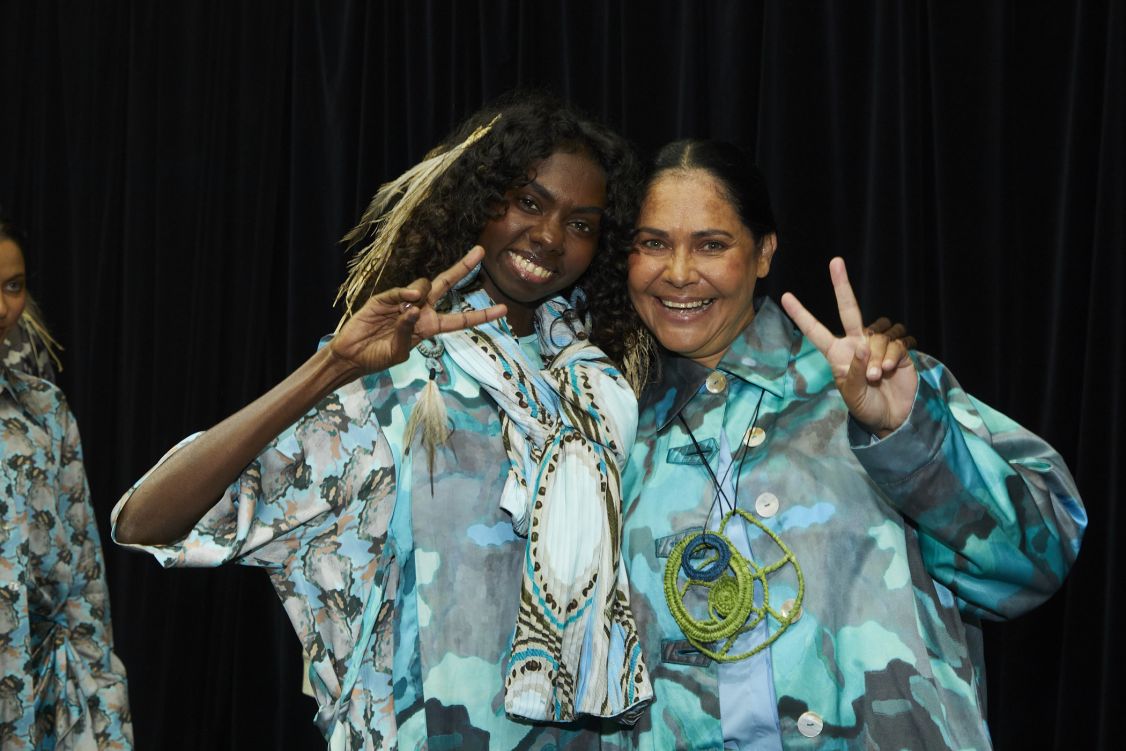 In less than five years, Melbourne-based designer Denni Francisco has built her multi-award winning sustainable fashion brand Ngali into a platform for First Peoples artists, designers and creatives. As well as creating collections that are shown and sold across the globe, Denni has been recognised as a leader in bringing First Peoples creatives together to collaborate and support Indigenous talent.
"It's there with the Ngali name," Denni points out the motto stamped into her label's logo. "'Together, we create'; that's what we do."
At its core Ngali is a micro business, its collections a covetable dozen or so silhouettes that Denni tweaks, refreshes and adds to every season. With the right switches and matches, however, she also makes them magically multiply into myriad seasonal looks, all with her Ngali-esque signature lilt of luxury and First Peoples sensibility.
"I keep the collection tight, always," Denni says. "And I want to keep the business really simple too."
That means, at design development stage every season, infusing her print mixes with new works by First Peoples artists, adding her own exquisitely simple extra details (a delicately ruched cuff here, a line of pleated silk "fins" there), and perhaps swapping out one cloth for another, such as the soft silk she switched for one that was even softer and even more "watery" in its "slipperiness", in Ngali's most recent history-making resort collection.
Subscribe for more fashion stories
Denni launched that collection, Murriyang (which roughly translates to "the land and water as it appears from the sky") at Australian Fashion Week (AFW) 2023 in May, the event's first ever solo show by a First Peoples brand.
At previous fashion weeks Ngali had shown in groups with other First Peoples brands but even the idea of a solo show seemed a little mad; they're notoriously expensive for one thing and logistical monsters to organise.
"But I just thought I'd ask (AFW organisers) IMG if there were any opportunities to be involved again," Denni recalls. "And they offered us a solo show.'" Not only that, IMG was willing to provide logistical and technical investment to back the show. "I was a bit shocked." Pleasantly, of course.
Such is Australia's unwaning appetite for First Peoples fashion. And such is Denni's reputation for impeccable collections and her talent for luring supportive partners and impassioned collaborators into her orbit.
Last year, for example, she mustered a coterie of renowned and emerging First Peoples designers and artists for an event with the Richmond Football Club. Not your typical fashion audience, but Denni had twigged this odd-ball collaboration could be a useful conduit into the general public's psyche.
Naturally, she was right. The event tripped new networks and commercial opportunities for the First Peoples artists and designers involved. Vision achieved.
"I think there's this beautiful energy around Ngali because we do everything through the lens of "Yindyamarra"," Denni says. "In the language of my (Wiradjuri) mob, that means being respectful, honouring country, generally doing the right thing by everyone."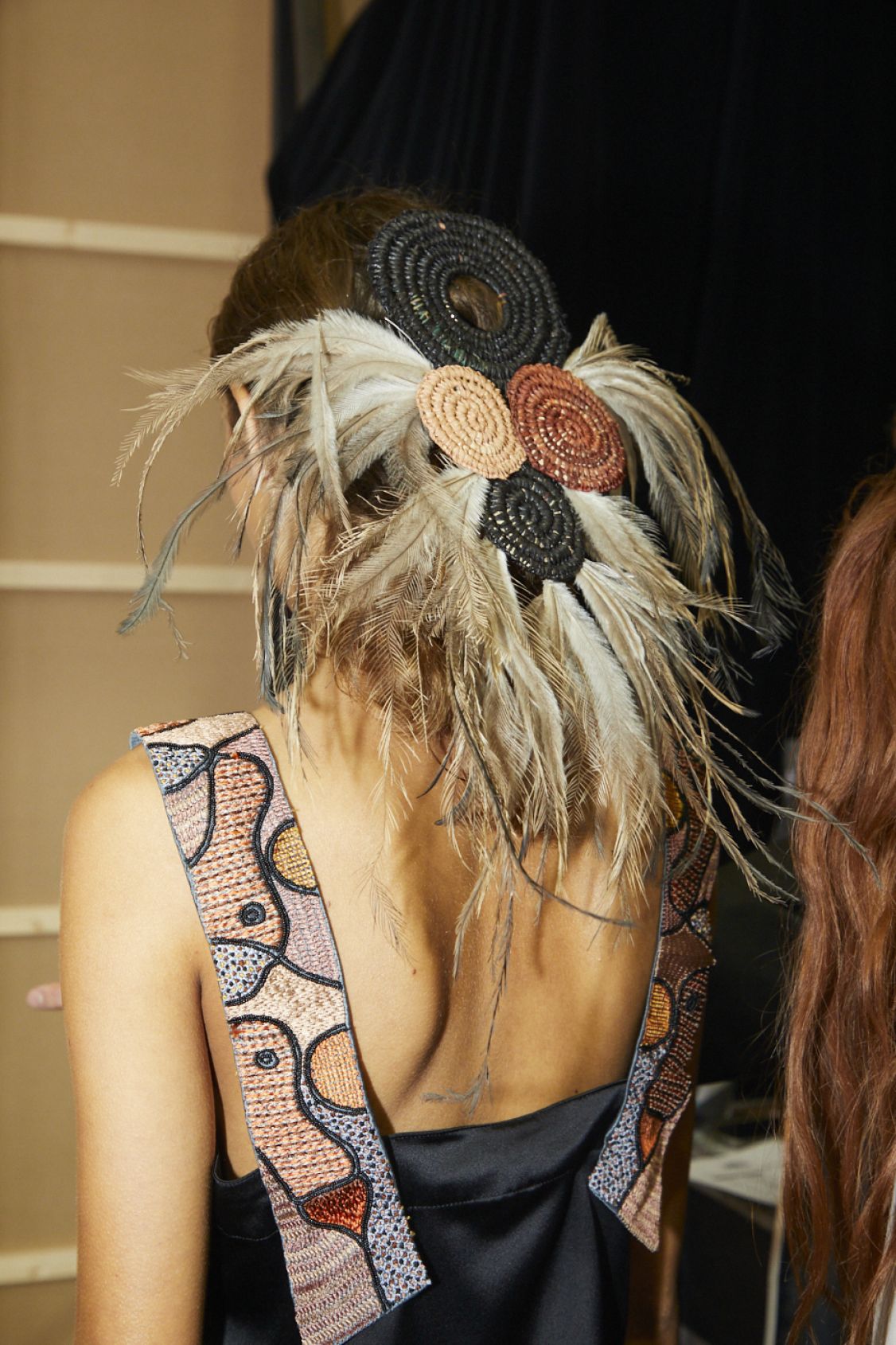 And extending a helping hand, or a leg up, where it warrants. As the last lights winked off Denni's Murriyang resort show at fashion week for example, dozens of partners and collaborators were celebrating with her.
Many were First Peoples creatives - models, backstage assistants, even the show's music composer, Jura man Josh Power but many others with vested interests in her vision and mission were dotted along her supply chain including the small, ethical mills, manufacturers and embroiderers she'd engaged for Ngali in Indonesia, India and China.
Denni's longtime collaborator, Gija artist Lindsay Malay, had his stunning works of art translated into soft-smudge print patterns - watery blues and earthy browns - for the collection's fluid silk shirts, scarves, pyjama-style pants, shorts, dresses and pinafore layers styled to draw air and elegantly lift, sway and flap as her models walked. "For the drama," Denni says.
A paler group of silk co-ordinates were a canvas for the starkly beautiful designs - repeating parallels of thin, rippling lines echoing Country's windswept ridges as seen from the air - by emerging Ngarrindjeri Wirangy artist Keedan Rigney.
Intricately woven grass yarn jewels and headpieces - intriguing blends of traditional and modern concepts of luxury - were crafted by Waddawurrung milliner Trina Dalton-Oogjes, Wiradjuri designer Ange Jeffery and Yorta Yorta designer Lorraine Brigdale.
"I'm exploring with some people in Italy about how we can turn these into customer offerings to create commercial outcomes for the artists," Denni says of the unique boot range. "So many people are asking, ' Can I buy them?'"
She'll sort it somehow. "I'm thinking all the time; 'Who can we bring in? Who else can we get involved? Always, it's about exploring commercial outcomes for our creatives...Everything we do is a collective process, always a collective process."
Shop Ngali and Denni's collaborators and at Ngali studio, 24 Aurora Lane, Docklands. (Directions: opposite Southern Cross station at 699 Collins Street. Take the walkway beside Fishbowl to a lift down to Aurora Lane.)