Wiradjuri designer Kristy Dickinson has followed up her much-loved accessories label Haus of Dizzy with a new line – one with a highly personal motivation and message.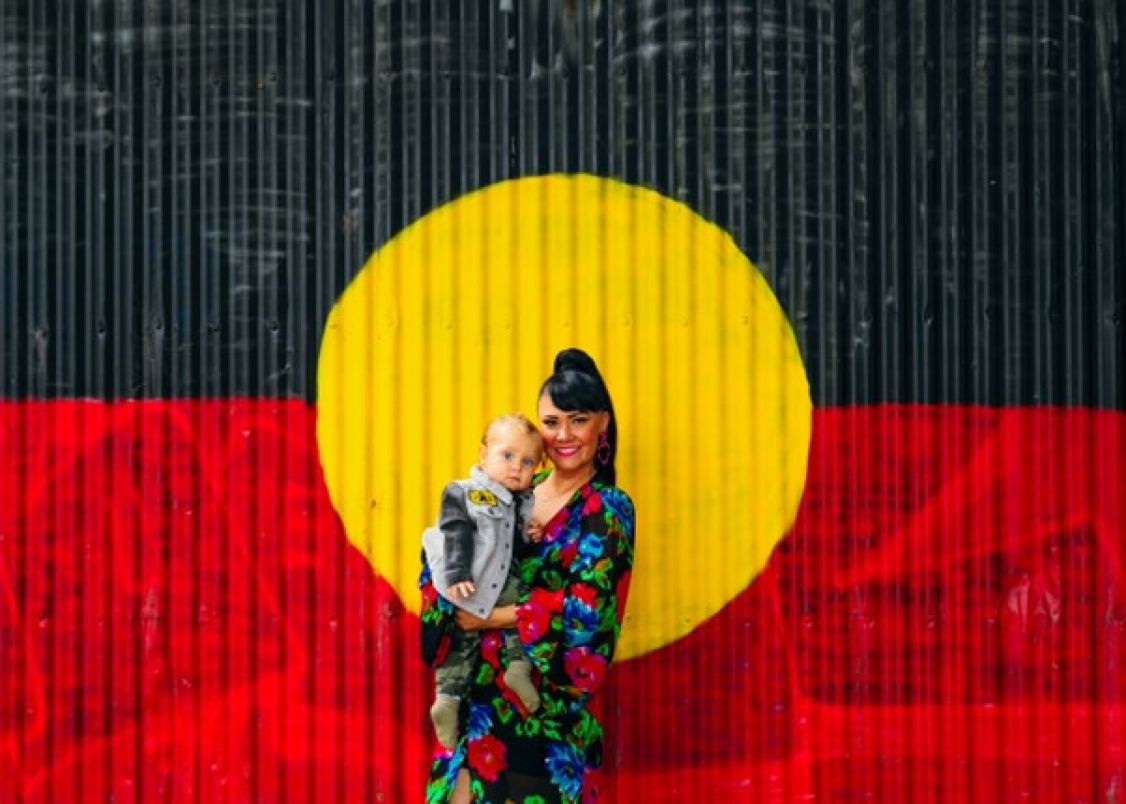 Proud Wiradjuri woman and designer and founder of quirky fashion accessories label, Haus of Dizzy, says in a heartbeat she'd go back in time for a chat with the tiny Brown Wiradjuri girl she once was: "I'd shake that little girl," she says, "I'd say, 'It's ok - be proud of who you are.'"
Kristy has her own little Wiradjuri boy now, three-year-old son, Ziggy Lee, so that wishful dream is particularly poignant. Recently it also became so compelling she decided to launch a new label for kids that plugs into the empowering joy, First Peoples pride, social justice and humour of its mother brand, Haus of Dizzy.
"I want for all kids to be proud of who they are," Kristy says. "When I was growing up, I didn't have those representations of being a little Brown girl. Even my dolls were white. I thought blonde hair, blue eyes was the norm. I was teased for being Aboriginal. I cried and cried."
Kristy's antidote to the racism and bullying that broke her young heart is the huge success of Haus of Dizzy. Its main line is a constantly blossoming collection of wildly popular acrylic earrings, laser-cut with deadly serious slogans - "Faboriginal", "Don't be Beige", "Always Was" and many others more peppery - delivered in Kristy's whip-smart witty style and graphics. They're sold in more than 30 outlets across Australia and New Zealand including art museums and gallery stores.
"Everything I do or say seems to end up in an earring," Kristy laughs. "I am very cheeky, always have been, and I just love to have fun with pop culture; you don't always have to be serious."
Subscribe for more fashion stories
She hopes Haus of Ziggy Lee will give kids similarly playful ways to express the pride she couldn't as a child. "To be who they are, wear their flag on their sleeve if they want to."
Kristy says Haus of Ziggy Lee childrens' accessories and clothes will be introduced in two stages. The first, a small group of duffle bags, patches, Indigenous Pride earring stickers, caps, bucket hats and some very cool, slightly naughty slogan T-shirts: "Stay Deadly", "Deadly Kids Club - Ratbag Number 1" and "Mum" inside a heart motif, will be online soon. "Everything has a meaning and a story behind it," she says. "For cool kids who know they're cool."
She's also developed a menagerie of 10 Haus of Ziggy Lee characters to populate the collections.
"Little native animals with their own mobs, their own stories," says Kristy. "A little wombat with a pink T-shirt and a Ziggysaurus because Ziggy loves dinosaurs...that will be on the main swing tag."
In October, the main collection of roomy, streetwear style co-ordinates across sizes one to 12 will be launched. "We're keeping the patterns as broad as possible," Kristy explains, "So there's no girls, no boys, just unisex: a mini dress boys could wear as well as girls, a pair of tights, matching shorts and T-shirt sets, a swimwear range, cotton pyjamas."
She's hoping the launch will also coincide with another milestone, the opening of a bricks-and-mortar retail outlet for both Haus of Dizzy and Ziggy Lee. At the time of writing, negotiations were still underway.
---
Haus of Dizzy was a Creative Projects Fund and Creative Neighbourhood Program recipient in 2022.