Circularity is a fashion industry buzzword with a serious message – to tackle the issue of sustainability.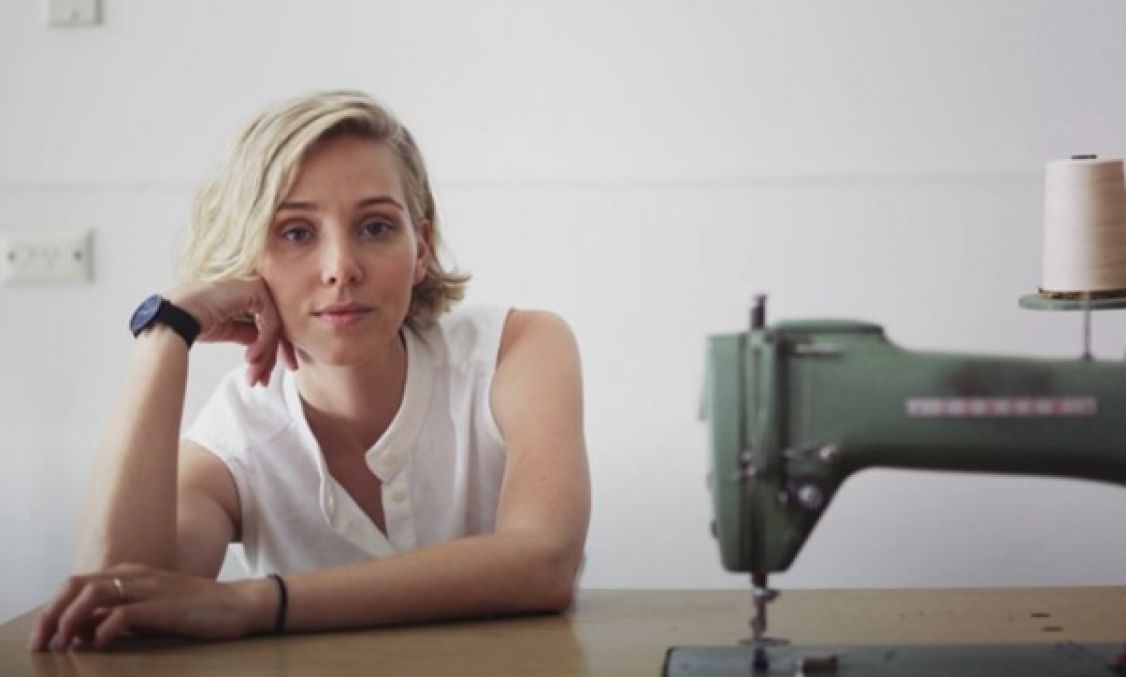 Every hour, every day, somewhere on the planet another workshop or planning session kicks off about fashion's circular future. Circularity is the industry's buzz-word, a global work-in-progress and signpost to a sustainable future. Melbourne designer and sustainability advocate Courtney Holm says she is frustrated a significant chunk of her industry is being left out of plans and conversations about how circularity can be integrated in their supply chains.
"Small brands care about sustainability and circularity and they're making strides - they're inspiring!" says the founder of circular micro fashion brand A.BCH.
"But whenever product stewardship is being discussed it always seems to be targeted toward big businesses, big brands. Small brands are being left out of a lot of these discussions."
Courtney should know, she's been experimenting with circular fashion with her own label for several years but knew that bringing other small labels into the conversation would require big picture thinking.
With the support of a Creators Fund grant in 2019 Courtney undertook intensive research, experimentation and development to help pioneer and test sustainability methods for A.BCH and beyond.
"The Creator's Fund was pivotal in allowing me the time and resources to explore highly creative new concepts around zero waste for our products as well as test the reception of our circular design methodologies on an audience."
---
Subscribe for more fashion news
---
And Courtney's work didn't stop there. In March 2023 Courtney led Circular Fashion Now, a workshop and think-tank skewed specifically to small brands' ambitions (but incidentally, also attended by big players including Target).
"We've (her brand A.BCH) been doing circular design now for six and a half years but we haven't shifted the industry even a little bit," she says. "I want that to change, I want to show people it's possible, how to actually do it and work on strategies around that. I also wanted to create something that could feed their souls, make (small brands) feel they weren't excluded."
Courtney jammed the sold-out day-long program with panels and talks by experienced local practitioners of circular principles as well as an intense practical workshop that knocked down the minutiae of processes for small manufacturers. "There's something that can be done at every level of business," Courtney explains. "Like starting to design differently: seam changes or stitch changes or looking at how do we make something last longer."
While there are many micro-strategies in circularity's fashion playbook, Courtney also used the forum to gauge interest in one aspect that is adaptable immediately by most small brands. "Dead stock," she says simply. "A circular sourcing marketplace selling dead-stock fabrics from mills and suppliers around Australia."
It's a plan in progress. She's been working on a pilot of what she calls the Circular Sourcing with Sustainability Victoria's support since October 2022. She has fingers crossed it will be up and running by July.
"We don't actually know how it's going to work yet," Courtney says breezily. "We're having a business case analysis done externally: like, is it something we (A.BCH) can commercially scale or is it more like a community co-op thing with multiple people having ownership and equity alongside us. We'll find out when we have some more solid data and insights."
The marketplace's mechanics however are already locked in and remarkably simple: potential sellers including mills and larger brands are submitting samples of their dead-stock for sale to be photographed, priced, captioned in detail (including quantities available) and uploaded to a digital platform. "We want it to be a really beautiful shopping experience," Courtney says. "Really easy to use with each seller having their own page so they can talk about their business if they want to, or remain anonymous and choose a generic name like 'designer label' if they don't want to reveal who's selling."
The marketplace will be a connector and conduit but not a warehouse, according to Courtney. "We'll have a small amount of sampling - our role is, when someone signs up and sends us a sample of the material they want to list, we photograph it and edit the product descriptions so everything is consistent and looks good across the marketplace." Then transactions play out between buyer and seller.
Until recently, accessing dead-stock sellers was almost invariably a hit-miss ad-hoc word-of-mouth affair for small brand buyers. Courtney is convinced the Circular Materials Marketplace will smooth access and make small brands' sustainable ambitions easier to achieve than they have ever been.
"This is really important for the future particularly as raw materials become more scarce," she says. "Getting Certified Organic cotton, just for an example, is almost impossible because there's such a high demand for it, so (small brands) are looking for other ways to get their eco-credentials."
She says dead-stock fabrics are a massive resource in Australia, often gathering dust in warehouses or knocked down for prices far below their real value just to get rid of them.
Connecting sellers and buyers with an easily navigated marketplace is a win-win for both big brand sellers and small brand buyers and typical of the collaborative culture and pathways Courtney's Circular Fashion Now forum revealed as vital to fashion's future.
"We need to agree on definitions and standards and a roadmap to get to circularity," she explains. "It's all about collaborating with people in your supply chain and collaborating with other brands and businesses - no-one can achieve this on their own."
---
For more information about Circular Sourcing: