Creative employment
The creative economy provides employment to an estimated 315,178 workers in Victoria.
This figure includes workers in a broad range of industries that you might think of as 'the arts', as well as design, architecture, fashion and screen (including film, television and digital games).
It also captures people who have creative skills and work in a creative role in non-creative industries , for instance an industrial designer working in the automotive industry.
Creative employment over time
This graph shows the average annual number of creative workers was 315,178 as at August 2023.
The impact of the pandemic can be seen when employment drops in 2020 and then gradually rebounds.
This graph shows how creative employment is changing over time. Prior to the pandemic, employment was steadily growing year on year. However, there were signs of recovery in 2020-21.
Creative employment share
The latest data shows that creative workers comprise 8.7% of Victoria's total workforce.
The creative economy's share of total employment continues to increase. Victorian workers in creative employment tends to fluctuate between 8%-9% of total employment. For example, as of May 2021, there were 298,407 creative workers representing 9% of the state's overall workforce of 3.313 million.
Creative employment snapshot
This data compares creative employment with total employment in Victoria.
Top 5 creative sub-sectors for employment
This graph displays creative employment trends across the various sub-sectors within the creative industries.
Creative workers in non-creative industries
'Embedded employment' is a term that is used to describe people with creative occupations who work in non-creative industries, for example, an art therapist working in a healthcare setting or a virtual reality technician who is employed in the aerospace industry. Embedded employment currently represents 29.2% of overall creative employment.
This analysis shows that creative jobs are needed in a range of industries from manufacturing to transport.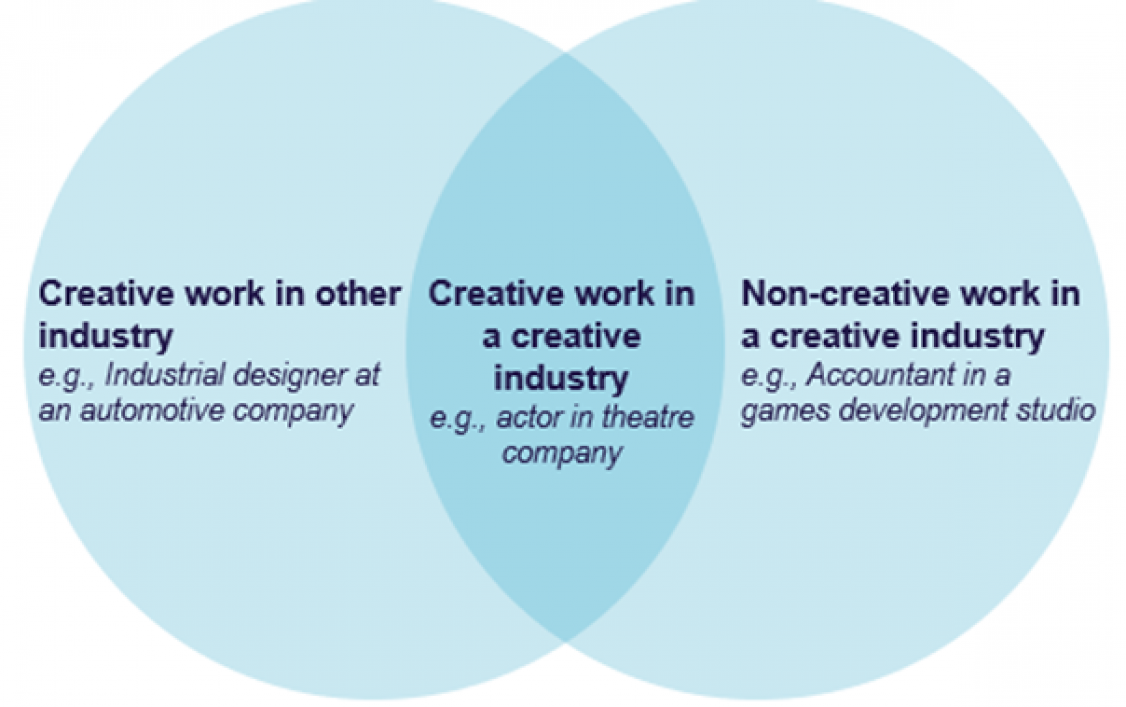 Technical notes
Detailed employment numbers are provided by the Census every five years. The most recent Census took place on 10 August 2021 and was conducted by the Australian Bureau of Statistics (ABS). The Census data provides an employment base case which is updated quarterly using data from the ABS Labour Force Survey. Jobs are classified as creative based on industry (ANZSIC) and occupation (ANZSCO) descriptions. Employment numbers are primary job only and no second jobs are reported. Numbers do not record the hours worked.
The revision status of quarterly Estimated Resident Population (ERP data) changes over time, from preliminary, to revised, to final. These changes occur as natural increase, overseas migration, and interstate migration component data are revised to incorporate more up-to-date data. These revisions flow through to the population benchmarks used to re-benchmark the labour force estimates on a quarterly basis.
Every five years, the ERP series are revised to incorporate additional information available from the latest Census of Population and Housing. Labour Force Survey population benchmarks, and the estimates, are revised following this five-yearly revision in the ERP. The process of incorporating the revised population benchmarks is referred to as 'rebasing'. The rebasing process is subject to a revision going from, preliminary rebasing approximately a year after the Census, to final rebasing approximately 2 years after the Census.
Following the 2021 Census employment figures were rebased in November 2022 and this impacts all employment figures back to 2016. For more information on revised ERP estimates, refer to the ABS December 2021 issue of National, State and Territory Population. (Australian Bureau of Statistics)
Creative Sectors consist of creative industry and creative occupation jobs based on the ABS Cultural and Creative Activity Satellite Accounts and by definitions of cultural and creative activity decided by the Statistics Working Group (SWG) of the Meeting of Cultural Ministers. A satellite account is a term used to measure the size of economic sectors that are not defined as industries in national accounts. The ABS has developed satellite accounts such as tourism, non-profit institutions, and cultural and creative activity.
The Victorian creative employment definition comprises a group of ANZSIC codes, extracted from the ABS Cultural and Creative satellite account in consultation with the Boston Consulting Group in 2015.
For the purposes of these dashboards, Victoria's creative economy includes the following classifications and the proportion split as at the 2021 Census is illustrated in the Venn-diagram below.
Creative work in a creative industry: 31%
Creative work in other industry: 32%
Non-creative work in a creative industry: 37%
Please contact info@creative.vic.gov.au if you have any questions.