Maverick local designer Estelle Michaelides is fresh from launching her new label, Saint Stella M in Paris during fashion week. Now, as part of MFW 2023, it's our turn.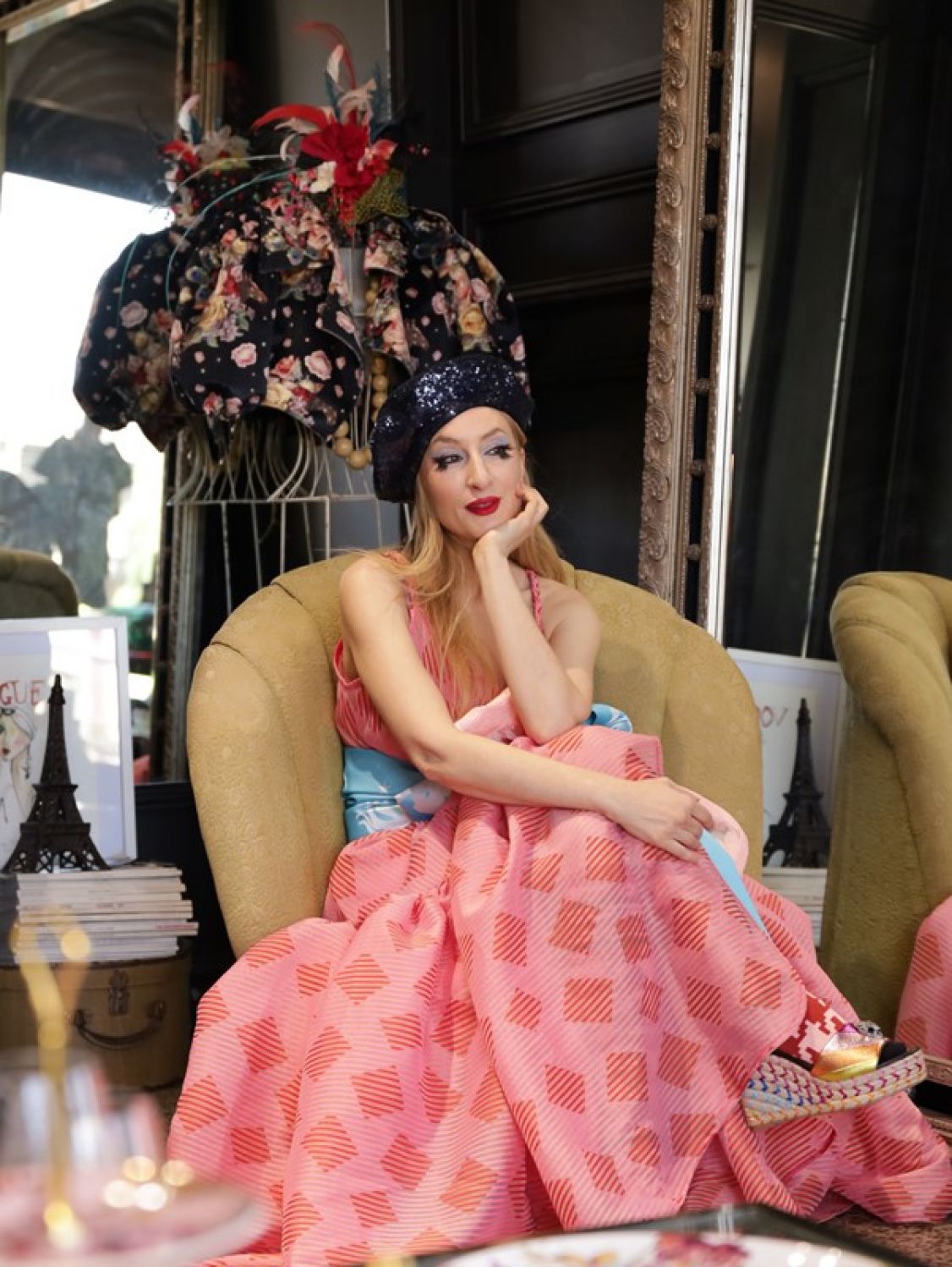 Estelle Michaelides designs deeply draped dresses, marshmallowy jackets, voluminous coats and swish, romantic layers often patterned with her own dreamy fabric prints.
Her cultish 14 year old Micky in the Van (MITV) brand is about as "Melbourne-esque" as fashion gets, if that means small and bright, relentlessly original, anti-trend-driven, linked to a love-knot of personal and political narratives and wedded to the mores of slow, ethical, artful fashion.
MITV is also "Melbournesque" in a very practical way; made to a mix of pre-orders and limited editions in Estelle's Collingwood atelier and by a small, flexible local manufacturer.
"And, it always will be," she says. "It will never be made anywhere else...(Melbourne) is part of my signature."
As fashion industry conversations in webinars, seminars and workshops across Australia have heated up around the consumer allure of niche brands manufactured close to where they're created, Estelle's innate "Melbourne-esque-ness" and locally loyal business model have become particularly pertinent.
"I identify very much as an Australian designer," she explains.
"And I want to represent the Australian industry; really show we do more here than just walk around in Speedos all day! But I am also, definitely, a representative of Melbourne fashion and Melbourne culture."
Earlier this month Estelle flew to Paris Fashion Week to launch not only MITV's summer 2024 collection, but a new sister label intriguingly named Saint Stella M.
"It's what I've wanted to do since I was a little girl - become a fashion designer and show my work in Paris," she says.
The collection's Paris launch was the first of two: Saint Stella M was also a natural choice for Melbourne Fashion Week's opening show on Monday, October 22.
Saint Stella M was an ambitious project in a year Estelle packed with ambitious projects, among them collaborations with legendary local florist Flowers Vasette and designs for a special Maxwell Williams crockery edition.
She describes Saint Stella M as, "even more avant-garde, more boundary-pushing" than MITV and named for her Greek grandmother, a dressmaker who lit her passion for fashion.
"It's a kind of applause for the heritage I was so ashamed of when I was a child," she explains.
"Applause for my immigrant parents and for the hardships they suffered; it's me embracing my heritage, finally putting Stella on a pedestal."
With the Parisian agent she found by cold-calling dozens with her look-books and CV (she is nothing if not a relentless optimist!), Estelle launched Saint Stella M and MITV's 2024 collection to buyers and media in a luscious little salon show typical of the theatrical and heartwarming "non-runways" she's become famous for.
To a backtrack of music by close friend Kate Ceberano's album collaboration with the Melbourne Symphony Orchestra, Estelle carefully dressed and undressed two Parisian ballerinas in highlights from the MITV and Saint Stella M collections. In their exotic layers, the ballerinas then pirouette-ed and plie-ed along the floor runway.
"Paris has always been a measure of success for me," Estelle says.
"But honestly, I've no idea if I'll get a hundred orders or a thousand orders, or...what. I just had to do it."
It's early days; too early to measure the scaling potential of Saint Stella M, or MITV for that matter, outside their hometown borders. One aspect of their identities, Estelle reiterates, she will never change.
"My (Melbourne) manufacturer is more than capable of catering to a larger quantity. My fabrics are printed here - a lot of them my own prints - and there's unlimited fabric availability. My knitwear is also all made at a local knitting mill with Australian-sourced cotton and merino wool. Basically any skill I need, I'm open to collaborating here. We've got the artisans. We've got so many clever people there's no need to (manufacture) anywhere else."
Discussions around ramping up Victoria's manufacturing industry however continue to mushroom, including at a planned panel series backed by Creative Victoria for Melbourne Fashion Week. Once a pipe dream hooked into Melbourne's dwindled reputation as a frontier of thrilling original fashion like Estelle's, the future vision of a thriving hub making its own stuff again is gathering momentum.
---
Find out More:
Estelle's Saint Stella M and Micky in the Van spring/summer 2024 collections will re-launch as part of the collection line-up on Melbourne Fashion Week's opening night show Fashion X Theatre in partnership with Moulin Rouge! The Musical on stage at the Regent Theatre.
Creative Victoria presents M/FW Conversations series including Circular Fashion in Melbourne, 9 am., Wednesday October 25, Wesley Place Business Hub, 130 Lonsdale St., Melbourne. Tickets $25 or $60 for bundle of three
Subscribe for more fashion news