The fashion collection at NGV's Melbourne Now is a sartorial snapshot of the Melbourne fashion scene, with 18 local labels and designers represented. From rising starts to long-established labels, it's a must-see for fashionistas.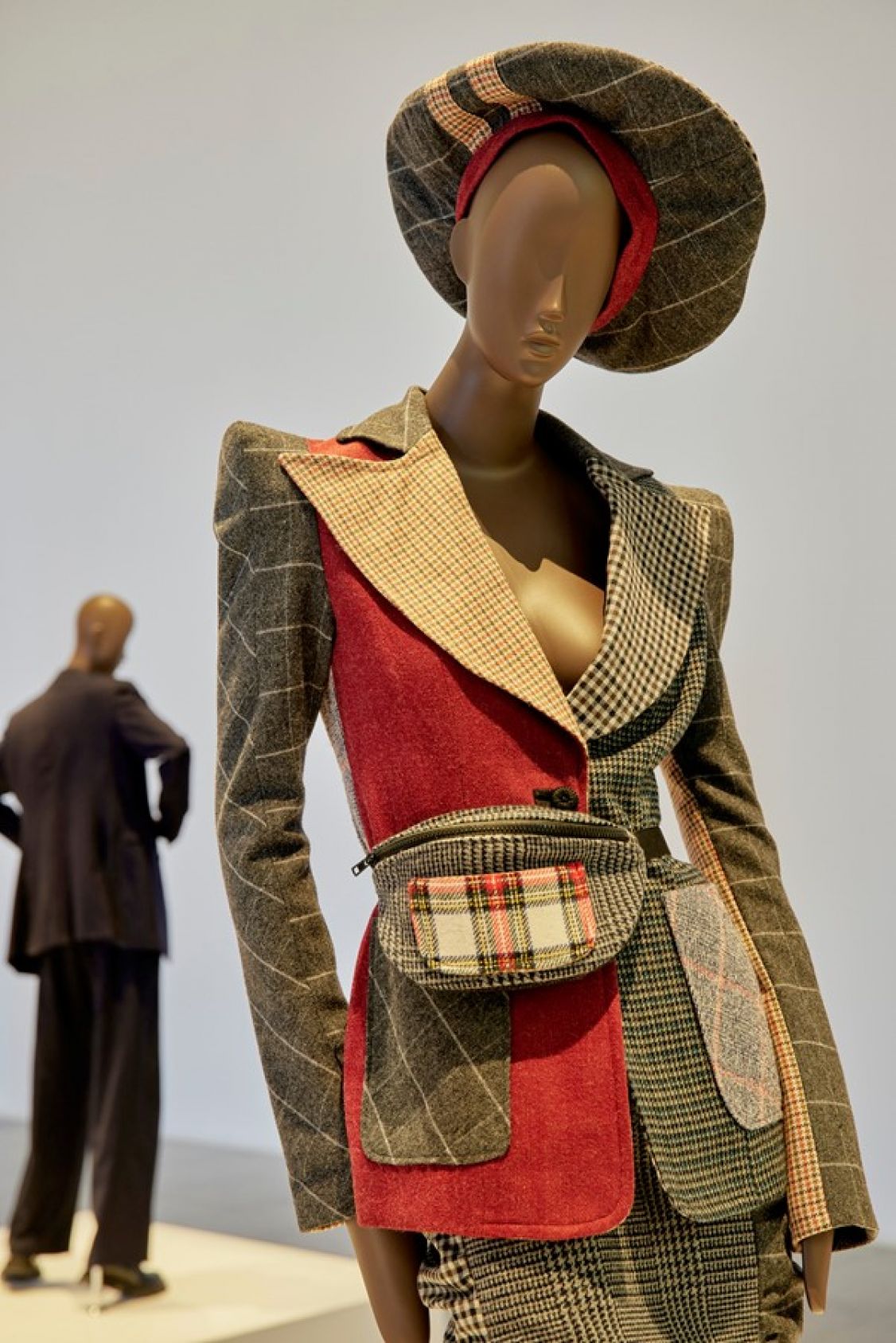 Join the throngs wandering on any day of the week through the NGV exhibition's forest of fashion mannequins at the Melbourne Now exhibition. You could be forgiven for thinking this is just another marvellous collection of locally made clothing.
The sprawling show of works by Melbourne's most accomplished artists, craftspeople and designers opened on all floors of NGV Australia: The Ian Potter Centre in April, with the fashion component and its mannequin forest quickly becoming a bee-line destination for connoisseurs.
The glass-less display means they can lean in, peer closely (no touching, of course) at a complex tailored skirt suit in dead-stock tweeds by Nevada Duffy, a kaleidoscopic neon tribal set by Nixi Killick and a copse of originals by Ingrid Verner, Strateas Carlucci, Kara Baker, Emily Nolan, Paul McCann, Chris Ran Lin, Micky In The Van and a dozen-odd others. A spectacularly sinewy neon-pink extravaganza-of-a-ball-gown was commissioned by the NGV from couturiers Anthony Pittorino and Jacob Luppino of J'Aton.
---
Subscribe for more fashion news
---
This is indeed a marvellous collection of locally made clothing but curator Danielle Whitfield says, if we think beyond the array of individual designs, a bigger picture materialises of a whole city's fashion culture.
"It's the broadest representation of fashion practices in Melbourne we could possibly get," Danielle says of the 18 labels and designers represented in Melbourne Now.
"Nothing could ever be completely comprehensive of course, with every single voice in there but this is the nearest."
She says the net was cast wide across Melbourne to find the city's fashion essence; a process that was laborious and the selection relentlessly strict.
"We made endless studio visits," she explains. "We looked at everybody, at Melbourne fashion on a very, very micro level, from recent graduates to long established, all kinds of fashion practices, all kinds of approaches to things like technology, to luxury fabrics, to prints, to knits...we had to be as representative as possible."
Internationally renowned brands such as Strateas Carlucci, Perks and Mini (P.A.M.) and couture atelier J'Aton, were considered with the same reverence for their cultural contribution to the local fashion scene as Homie and Social Studio.
"They're very Melbourne too," Danielle says of the social enterprise labels, "Very "of-the-moment" and one of the many strands of fashion practice here."
Danielle says she and the NGV's fashion and textiles team unearthed layers and layers of meaning and purpose common to Melbourne designers.
"What also came so strongly to the surface was how value-driven they are," Danielle says.
"How common the issues are that are underpinning all these local fashion practices. Time and time again we were hearing designers talk about identity, politics, sustainability, ethical practice, diversity, inclusivity."
In the end, the picture that emerged of Melbourne's fashion culture wasn't surprising. Our traditional small-fry studio and atelier-based cottage industry has long been recognised as intensely creative, highly innovative, unique in Australia and rare in the world. Now, its future-focussed ethics can be counted into the magic "Melbournesque" mix too.
---
In Melbourne Now you'll find these local labels:
Arnsdorf, Erik Yvon, Blair Archibald, Collective Closets, Emily Nolan, Social Studio, P.A.M., Ngali, Strateas Carlucci, Nixi Killick, Nevada Duffy, Micky in the Van, HoMie, Ingrid Verner, Chris Ran Lin, J'Aton Couture, Kara Baker, Nobody Denim