First Peoples fashion designers will show the art and music of their Elders and ancestors in Melbourne Fashion Week's most evocative venue.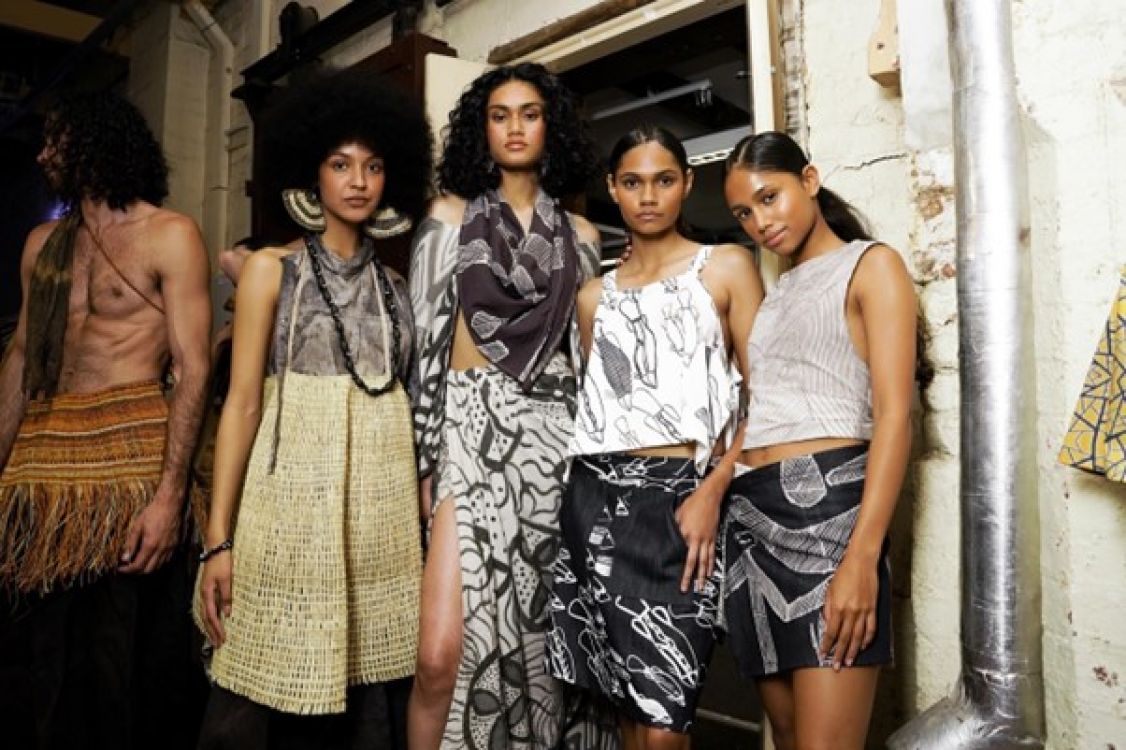 It's hard to imagine a more exquisite destination for this year's Ganbu Marra runway than South Wharf's air-craft-hangar sized The Lume where digital projections of First Peoples art, tracts of remote Australian bushland and drone shots of ancient landscapes roll like clouds around four-storey high walls while the waters of Torres Strait appear to slip and wash beneath visitors' feet.
The 3,000 square metre gallery space is currently hosting Connection, a history-making curation of works by more than 110 First Peoples artists and musicians.
"The technology breaks down barriers," says one of Connection's most significant participants, Eora Nation artist Kate Constantine.
"A lot of people like Aboriginal art because it is colourful or pretty, but a lot of people are quite challenged by Aboriginal art too, by not knowing or understanding how to interpret it or not feeling like they have permission to be involved. Connection is just so inclusive."
And so it is into this inclusive, immersive 360 degree, multi-sensory "set" that Ganbu Marra's First Peoples models and performers will walk as they showcase the collections of 16 First Nations artists and designers: ADJADURA ART, BAYIKINA AWAKEN, Clair Helen, Elverina Johnson x Taking Shape, Ginny's Girl Gang, Ihraa Swim, Ikuntji Artists, Kamara Australia, Kaninda, Lazy Girl Lingerie, Nungala Creative, Take Pride Movement, Ticia Designs, wa-ring, Wuurn of Kanak and Yarrenyty Arltere.
Legendary Wurundjeri elder, Aunty Joy Murphy Wandin AO will extend a Welcome to Country and in a poetic linking of generations, her granddaughter, Wurundjeri woman Chenile Chandler will perform her moving Call to Country song.
Then comes the fashion. It's a line-up heavily salted with high-potential emerging designers, particularly Letticia Shaw of Fitzroy Crossing who launched her label Ticia Designs at Paris Fashion Week earlier this month.
First Peoples models Kahlia Rogers and Letisha Davies walked Letticia's pod collection in the popular salon runway at La Galerie Bourbon hosted by collaborative New York agency Flying Solo, a champion of micro emerging brands.
Letticia will show the same diamanté and feather-trimmed collection featuring her sacred lizard totem picked out in patterns of black and gold sequins at The Lume's Ganbu Marra show.
The show promises to be a glamorous high point in a looping, unusual runway choreographed across The Lume in giant, floor-lit "figure 8" runway and mixing fashion genres from lingerie and swim to athleisure and streetwear.
---
Find Out More
Two sessions of Ganbu Marra Runway will run Tuesday, October 24 at 6.30 to 7.45 pm and 9 to 10.15 pm. in The Lume, 5 Convention Centre Place, South Wharf.
Tickets from $79 include the complete Connection experience post-show.
Subscribe for more fashion news