M/FW's student and emerging designers are more serious about fixing the industry than their predecessors have ever been.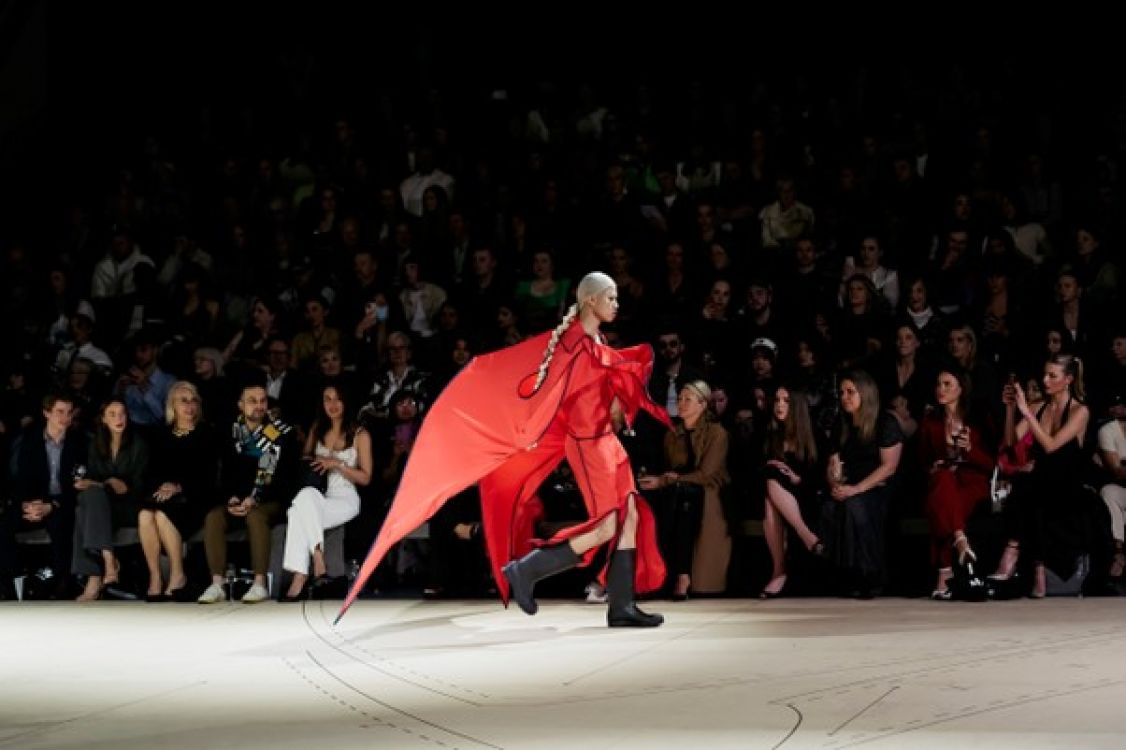 Student runways gift us a fresh batch of designers every fashion week. Thumping, fast-paced, invariably thrilling, the shows are considered by many industry insiders to be unmissable hot-ticket peeks into fashion's immediate future. The best are peppered with stars-in-the-bud.
"It's that one show you really don't know what to expect," says Melbourne based creative director Stuart Walford who has styled fashion week's student runways, including the 2023 showcase, for six years.
"An element of surprise you don't get anywhere else."
A selection panel headed by Stuart has whittled this year's student runway lineup down to 40 headstrong designers and their 40 wildly disparate pod collections, each comprising three outfits.
"This is their one chance," he says. "Their one incredibly fleeting moment to make an impression. It has to count; they'll use this as sort of advertising revenue, to really make their mark, tell you about who they are."
Stuart's dealings with the students began weeks ago, in one-on-one mentoring sessions.
"They have an incredibly hands-on approach," he says, admiringly, "Making sure their image and output is communicating exactly what they want to say, how they want to be represented."
Times 40. Stuart's nightmarishly tricky task is to puzzle an harmonious runway show from this annual mix of 40 divergent ideas and personalities.
"Some (students) get quite deflated (because) they have ideas about the music they want, the hair and makeup, every detail, but I can't go too conceptual on a single idea," he says.
"It's more about creating an environment with things like the soundtrack and hair and makeup that creates some harmony and celebrates all these strong identities."
For most students it's their first crack at meaningful public scrutiny. The tendency to "go big", with a memorably gob-smacking flight of creativity to stand out from the lineup is historically understandable. For decades, oddball "unwearables" have been the student runway norm. Some have been explosive, effective conveyors of great ideas; some, just too wacky to take seriously.
But something's changed. Stuart says he has noticed a curious shift in recent years, toward more restraint among student collections. "When I first started working on (student runways) the language was more about impact and size and scale," he says.
"It was; the more avant garde, the bigger the silhouette, the better. Now it's almost like we've gone back to basics a bit, with emphasis on construction and make and sustainability and there are a lot more calmer silhouettes coming through with the fabrications and details being explored more than those big impact ideas."
There will always be gob-smackery but he speculates this subtle aesthetic shift could be a response to the global "quiet luxury" trend or, perhaps, the fallout of this student batch having undertaken their first months or years of study online, often alone, during Covid lockdowns.
"Or maybe they're just thinking this is a beneficial strategy to communicate that they're ready for industry," Stuart says. "Ready for business."
Fashion students' education has radically veered deeper into business, technology and industry studies in recent years. Principles of sustainable, ethical and circular fashion production are weighted equally with the importance of unleashing creativity. It's a phenomenon that's relatively new.
Industry-based support for fresh-shucked fashion graduates has also exploded. Once launched like chicks from a nest into a local industry that offered little or no help to get their small fashion business off the ground, they can now take their pick of ambitious and often free industry mentoring programs, courses and hands-on internships.
Stuart's selection panel, for example, will pick out one gifted student - the 2023 M/FW Student Award winner - to undertake an internship with legendary local Rosemary Masic of Melbourne fashion label, Nevenka.
Across town in the "disruptive, experimental fashion production and retail space" known as Future from Waste Lab founded by iconic Australian designer Kit Willow, another group of emerging designers has been selected to undertake WASTEFEST scholarships during fashion week. They will have their warts-and-all efforts on public display as they create complete outfits from textile waste under the guidance of industry experts and mentors.
And beyond the orbit of fashion week, entrepreneur Julia Browne of Melbourne Fashion Hub runs a uniquely intense mentorship programme through which a selection of emerging brand owners are nursed through their first months in business.
---
Find out more
M/FW's Student Collections Runway shows will be staged on Friday, October at 6.30-9pm in the underground carpark, Waterfall Lane, South Bank. Find out more and book tickets
Learn more about this year's student designers from RMIT School of Fashion and Textiles and Whitehouse, Kangan, Box Hill and Holmesglen Institutes
In the second of M/FW Conversations series presented by Creative Victoria on Wednesday, October 25 at 10.15 am, a panel of tech pioneers will discuss how students and emerging designers can expand their scope of business in "Fashion Tech Careers: VR, Gaming and Beyond".
Subscribe for more fashion news