Victoria is the engine room of Australia's digital games industry and many women are leading the way in the field. Meet Marigold (Goldie) Bartlett, an artist and game developer, whose work includes the recent hit game Wayward Strand with Melbourne games studio Ghost Pattern.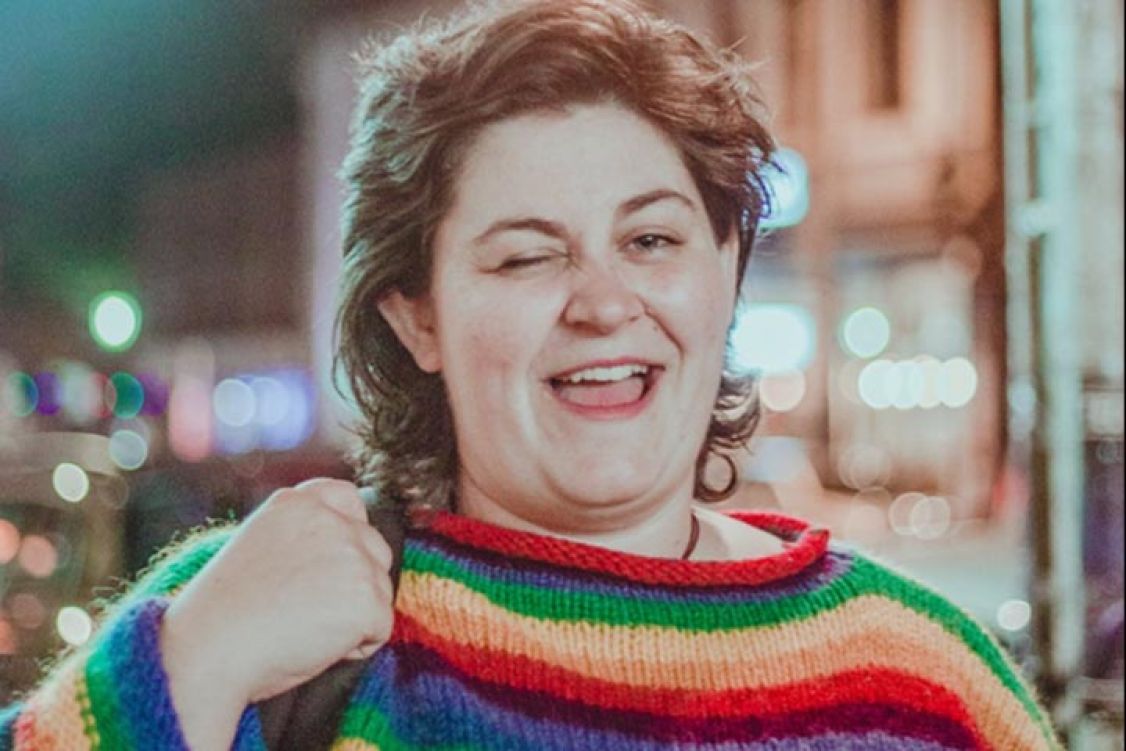 How did you start your career in digital games?
I started my career in digital games by enrolling in RMIT's Games Degree in 2012. While in my second year of study, I was offered a job to design the visual identity for the Freeplay Independent Games Festival. This was my first professional experience in the games industry.
Back then, events like Freeplay were youth-driven DIY spaces, disconnected from the idea of 'The Industry'. It was really just a big network of creative 20-something-year-olds making games with passion, and throwing parties to play the games and give each other feedback without any pressure to be successful – or to take it too seriously. It was a really experimental, playful culture.
I reckon it's how every 20-something-year-old should start a creative career: go out, network, make weird stuff, have fun, demand space for your and your friends' ideas.
I worked with some friends on a very successful final year assignment which got us into a few festivals and blogs and more opportunities flowed from there.
Were you a 'gamer' as a kid?
I definitely played a lot of games growing up, although I didn't, and still don't really think of myself as a 'gamer', probably because it's not a word which inspires me very much – there have just been too many bad advertising campaigns with Doritos and neon-strip lighting.
In the early 90s, my two much older teenage brothers were both into nerdy stuff, and they introduced me to DOS games when I was really young. I remember getting my cousin's hand-me-down Super Nintendo for Christmas in 1998, and then I saved up pocket money for 20 months to buy my own second-hand Nintendo 64 in 2001. I was gifted a GameCube in 2004, which was the best day ever.
What was your favourite game growing up?
I was a total Nintendo baby, so I loved adventure platformers like Banjo Kazooie/Tooie, Donkey Kong 64, Starfox Adventures, Ocarina of Time, and Wind Waker. I loved the colourful worlds and epic stories, and those games really ignited my passion for character design, colour theory, visual narratives and drawing.
Tell us about your career so far in digital games?
The past 10 years have been a real hodgepodge of experiences for me. It's kind of like a patchwork quilt of opportunities and collaborations that I've pieced together since I first set foot in university. As a freelancer, I've taken on a wide variety of work - everything from illustrating commissions to branding and identity projects for festivals and initiatives, to game development.
I was a 2017 VicScreen Women in Games fellowship recipient, which truly kick-started a lot of my career by allowing me to travel overseas to the annual Game Developers Conference in San Francisco. I also visited New Zealand's developer community in Wellington and the indie scenes in Kuala Lumpur, Portland, Vancouver, Seattle and Austin.
I've been paying rent through gamedev since 2013, which to me is a pretty fine marker of a successful career so far. These days I develop more regularly and also teach at RMIT.
What has been your biggest career achievement (so far)?
The most meaningful experience for me has been the journey of self-publishing a debut game, Wayward Strand, with a fantastic indie team called Ghost Pattern.
I was originally hired in 2016 as the art director. The first 6 weeks I worked for free because we were throwing our hat into the ring on our ideas – trying to find funding to get a prototype made. We got the funding and the rest is history.
Are there still barriers for women in digital games?
Certainly. In Australia, there are still barriers for women in the digital gaming industry, as is the case in many other modern professions. It's worth noting that women have only had the legal right to work in Australia for the past 81 years, and Indigenous Australian women have faced and still face even greater obstacles in accessing the workforce.
Australia has undoubtedly witnessed significant progress in recent years, including the introduction of enhanced paternity leave and adoption assistance, improved hiring practices, and an overall increase in awareness of cultural issues. However, the elephant in the room cannot be ignored: the capitalist system has historically favoured a certain subset of men for top positions in the workplace.
Despite these pesky obstacles, there are many talented and empowered women working in the digital gaming industry at all levels. While smashing the glass ceiling can be challenging, it is immensely rewarding.
What advice would you give to young women starting out in the industry?
Find mentors and build a network: Seek out successful women (or men, or non-binary people!) in the industry and ask them for guidance and mentorship. Building a strong network of like-minded individuals can be invaluable in terms of support and opportunities.
Focus on your skills and strengths: Develop your skills and expertise in areas you are passionate about. It never hurts to practice your craft.
Advocate for yourself and others: Speak up for yourself and your colleagues. Ensure you are being treated fairly and respectfully, and support others who may be facing similar challenges. I strongly advise signing up with the union for Australian game workers, 'Game Workers Australia'.
Pursue diversity and inclusivity: Advocate for and support diversity and inclusivity in the industry. This will help create a more welcoming and supportive environment for all individuals. Learn to leave the 'boys club' if that's where you're coming from!
Describe Victoria's digital games industry in three words.
Innovative. Prosperous. Fortunate.