It's a joyful explosion of colour as Warrnambool Art Gallery brings two Australian fashion and art icons together for its latest world premiere exhibition, Lisa Gorman + Mirka Mora: To breathe with the rhythm of the heart.
Warrnambool Art Gallery Director Aaron Bradbrook, who curated the exhibition, explains its journey from idea to reality.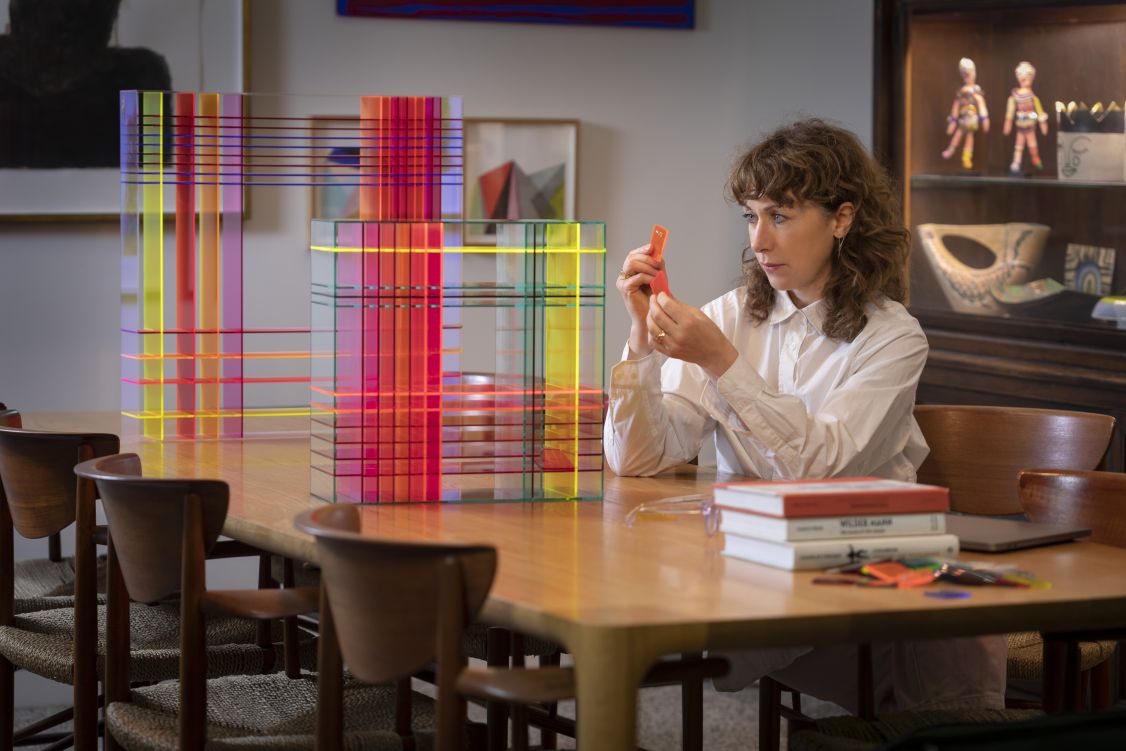 Where did the idea for this exhibition come from?
Relocating to Warrnambool, I began to research the region's rich and complex cultural and artistic history. I became aware leading Australian designer Lisa Gorman is from Warrnambool, and, although she no longer resides in the city, she still maintains a strong connection to the region.
When Lisa departed as Creative Director of the Gorman label and began focusing upon her visual practice, I reached out to her, and we began a suite of wonderful conversations. During her time at the helm of Gorman, the label established itself as the master of collaboration, working with over 120 artists, designers, private organisations and public institutions to re-materialise art and design into textile and fashion collections. So, for me, collaboration needed to be at the heart of this exhibition.
How did the idea to bring the late great Mirka Mora's work into the exhibition come about?
A pivotal creative relationship was created between Lisa Gorman and Mirka Mora, of which two iconic collections were produced in 2016 and 2018. For Lisa, what bound the two artists together was a shared joie de vivre and love of Melbourne. Lisa often speaks about Mirka's vitality and energy for making art, and it was through their shared love of textiles, beads, colour, light, illusion and form that their collaborative collection came to be. Writing for the exhibition's book, Lisa thanked Mirka, who inspired her as an artist and a woman and taught her the meaning of spirit.
What are the key things a regional gallery needs to consider when presenting a world first exhibition like this one?
Many regional galleries, including ours have relatively small teams, with many staff working across numerous gallery and museum areas. This creates opportunities to think on our feet, be nimble and problem solve quickly. Like any large-scale exhibitions, additional resources are always required to realise ambitious projects, and they are extremely competitive to ascertain. We have been fortunate to establish strong partnerships with the Victorian Government to provide this support, which allowed us to engage an expert PR and marketing consultant.
As we are part of a larger city council, we can engage non-Gallery staff from diverse departments with unique expertise. For this exhibition, we drew upon the skillset of our economic development and tourism teams to generate extra support and community buy in. This has spawned some wonderful local business collaborations from discounted leisure experiences, to customised takeaway coffee cups and hospitality staff promotional t-shirts across the city.
What have you learned from this experience that you'd pass on to other regional galleries and museums?
Community engagement is at the heart of every regional gallery. For this exhibition, I approached an artist who embodies the innovative social identity of this region. Lisa Gorman is a tremendous success story of Warrnambool, who re-centres the notion that extraordinary artists can live, and be from anywhere. For all her success, she has maintained a deep connection to the region, which I believe it worth celebrating.
What are the highlights of this exhibition?
We're very proud to have been working with Lisa on her largest work to date, a site-specific response entitled REPEAT, 2023. It features approximately 27 multicoloured acrylic sculptures that will immerse visitors in a neon colour bomb of bouncing light and playful shapes. The works are around eight metres in length, wrapping the gallery walls.
What are you most looking forward to seeing yourself?
Fifteen of an original 17 embroidered panels from Mirka Mora will be shown (at the exhibition). Created in the late 1970s and early 1980s, they have not been shown in their entirety since shortly after their creation. Across these embroideries a menagerie of suns, stars, serpents, faun, faces, friendly wolf-like dogs and other wondrous characters in interrelated states of metamorphosis play out dream-like scenes of love, creation and mischief.
Are there any special events around this exhibition?
There is a program of events including sculpture and fashion workshops, public lectures and a book signing with Lisa Gorman. For details check out the Warrnambool Art Gallery website.
What else do you have planned at Warrnambool Art Gallery?
Over the coming years we will be working with many extraordinary artists including solo exhibitions by Kait James and Hannah Brontë. In early 2024, we will be announcing our major international headliner for summer 2024/2025, alongside unveiling a significant new artistic project for 2025/2026. Expect more innovative contemporary art and design!
Besides this exhibition, what else can visitors discover at Warrnambool Art Gallery?
Our current exhibitions are Maar Nation Made, featuring the work of artists whose practices consider their personal and spiritual connection to Country, nature and the sky (finishes 7 April 2024) and Paul Yore & Albert Tucker: Structures of Feeling (until December 3), which showcases two groundbreaking Australian artists.
Describe Warrnambool's creative scene.
Warrnambool has a vibrant and professional creative scene, with many professional and hobby artists. The region comprises a number of artist-run initiatives, while cafés and bookstores actively encourage and support visual practice by lending their walls for exhibitions.
Lisa Gorman + Mirka Mora: To breathe with the rhythm of the heart runs 18 November 2023 to 17 March 2024. For tickets visit the Warrnambool Art Gallery website.
The exhibition is supported by Visit Victoria. Warrnambool Art Gallery is supported by Creative Victoria through the Regional Partnerships Program.