It sounds simple enough: mock up a couple of team-colour tees, slap on the right stripes and logos and - voila - easy money for easy merch, right?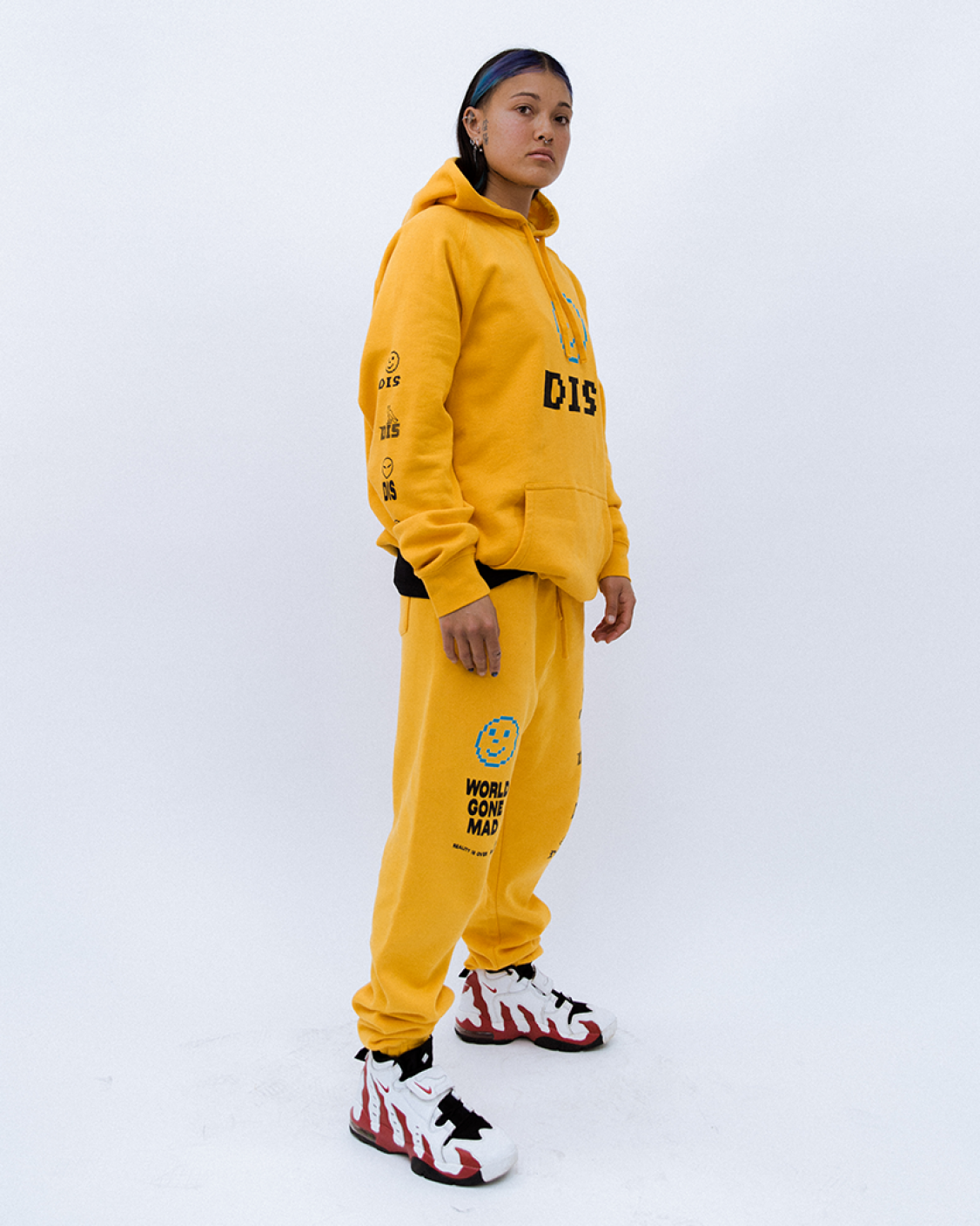 Maybe once but now, not even close. Producing modern merch is part art, part mind-bogglingly subtle social science, part design theory plugged deep into the Zeitgeist.
"Cultural touch-points inform the graphic language of our merch," explains Josh Rush, chief brand officer for Collingwood-based e-sports organisation ORDER. "It's using the visual language of those sub-cultural connections and graphics, the music, the art, the inspiration of other contemporary brands to reach the audience."
He says ORDER's two new-ish "merch" labels, DIS and Order, are finely tuned by the culture of professional gamers and content creators behind them. They were launched earlier this year to ORDER's 18-34 year-old e-sports fanbase.
ORDER's apparel manager Sam Peckett developed the collections to ride the exploding popularity of ORDER's creative content and rosters, considered some of the best in Australia, competing around the world in tournaments including League of Legends, FIFA, Valorant, CS:GO and Fortnite.
"If you're wearing a piece of merch and someone walking by knows it, it's like a language," explains Sam. "It's 'I know you're a fan, you know I'm a fan' but, to anyone else it's just like a nice piece of clothing."
It sounds like the social mechanics of a fashion trend but, Josh says, it's best we don't go there. "We're very clear that we're NOT a fashion brand," he says, "We're first and foremost a content brand, we just also make merchandise that supports the content and supports the audience."
Sam calls the whole rocketing phenomenon of branded gaming, content, fans and merch, "merchtetainment". But there's no denying merch is a curious, "anti-fashion" fashion category. "In this space you don't want to come across as taking yourself too seriously," Sam says. "Even the word 'apparel' can be a problem; your merch is to support the brand and it just happens that it also looks sick (good)."
Developing the DIS and Order merch ranges, he tread the razor-fine line between fans' complicated range of demographics and a painfully narrow offer of silhouettes and garment types. Merch's generic design parameters are locked in - by global market default - to variations of casual basics and athletic and athleisurewear: hoodies, tees, caps, jersey tops, trackies, shorts etc. A merch designer's limited aesthetic wiggle room is in the tiny risks and variations they're willing to take to set theirs apart without moving outside the conventions or alienating fans.
To aim DIS and Order unisex or genderless merch with bulls-eye accuracy at their respective markets, Sam worked with Josh and ORDER's in-house graphic artists and tapped a full orchestra of those "cultural touch-points" Josh mentioned earlier.
They pitched the Order collection at traditional e-sports fans. It will evolve in a similarly measured and controlled way as a classic athletic brand such as Adidas or Nike, according to Josh, with only small, unchallenging seasonal changes. "It's for the collectors and the kind of fans you'd see at, say, GG-EZ e-sports bar in the city," Sam adds, "They watch live streamed games happening around the world and wear merch like jerseys similar to how football (supporters') support their team."
Order's vertical striped jersey (Sam calls ORDER's jerseys "super-fan items") for example, was inspired by classic rugby and soccer jerseys and has the same nostalgic lilt about it. Its purple and black stripes are unusual. Red, green, navy and all-black are more common for professional gamers' jerseys but purple stands out, setting ORDER players apart from their competitors, particularly in rooms full of illuminated computer screens. "It's high-quality cool stuff you'll want to wear to represent your team," says Sam.
DIS merch on the other hand, sits a few "cultural touch-points" higher on the fashion scale. "DIS is much more youth targeted, more like streetwear," Sam says. "We use the term (for its market): 'Raised by the internet'. The brand's aesthetic is deeply plugged into the music, art, gaming and content created on its backend including its interview show, DIS-Lab and beat battle competition, DIS-Tracks.
The DIS merch itself is genderless and feels that way. It also has a strong, embedded narrative that starts: "DIS was born from the cracks in a world gone mad...we wanted to create an escape: "reality is over" is our mantra."
"DIS was actually conceived when a lot of heavy stuff was going on in the world," Josh says. "It was a weird time, we wanted to bring back positive energy and fun and inspiration...so (DIS) is colourful and upbeat and irreverent with a lot of elements of satire and tongue-in-cheek and sub-cultural connections in the graphics."
He says DIS will drop smaller, seasonal pod collections with fresh design variations, graphics and - as its future unfolds with full production, quality control and an ethical, sustainable backstory - creative collaborators' input. The first capsule, "Make Magic" has already piqued collectors' attention and its first media collaboration is underway with a bona fide "fashion influencer", the hugely popular Fortnite Twitch streamer, Fasffy.
"Brands have to be highly credible and authentic in this space," Josh concludes. "Success has a lot to do with the people behind a brand, their ability to connect to and understand those audiences and we're lucky that Sam (Peckett) is it: he IS the target market and has a ton of apparel experience too"
Success, theoretically, assured.
For more stories like this subscribe to our fashion newsletter made for Victoria's local fashion industry and creatives.