Victoria's music industry is committing to a greener future with the release of Sound Country: A Green Artist Guide.
Produced by Green Music Australia, with the support of Creative Victoria, the guide offers practical tips for everything from energy use, tours and transport, to merchandise, packaging and waste.
A working guide for musicians at all levels, from local pub acts to stadium rock tours, Sound Country aims to empower artists to take charge across all aspects of their careers, from encouraging them to incorporate more sustainable practices into their touring operations, to becoming ambassadors for change.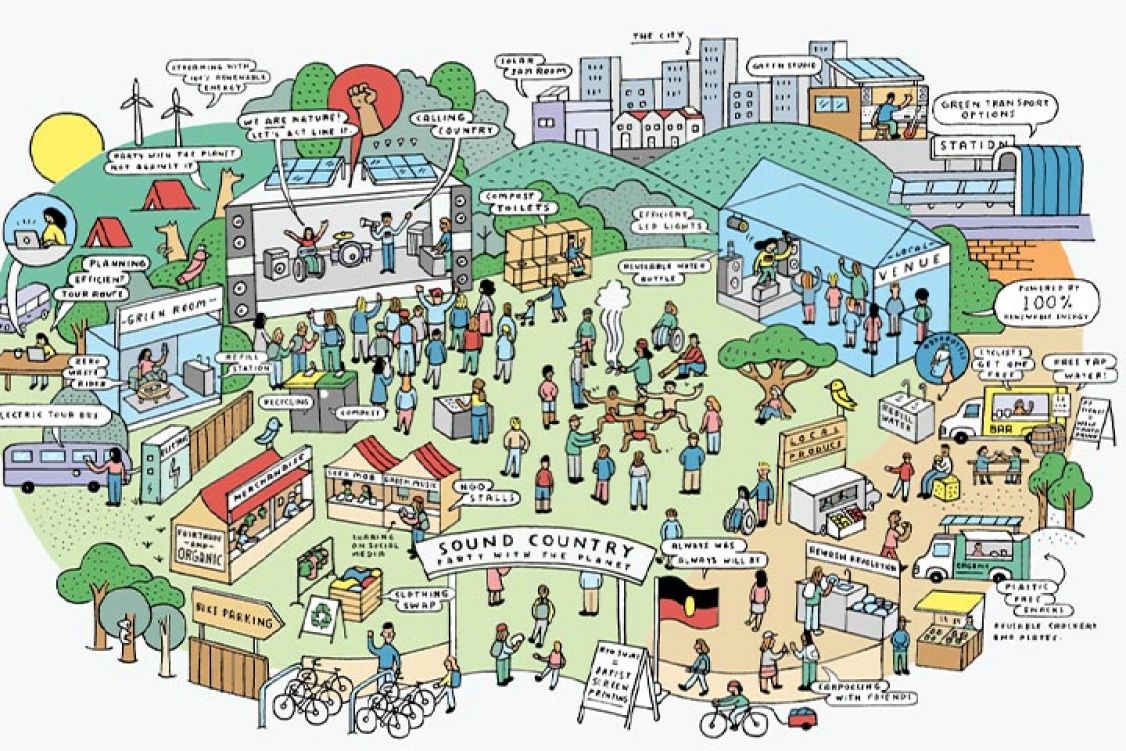 Open Sound Country
The guide has input from musicians such as David Bridie, Jen Cloher, Jessica Cerro (Montaigne), Lisa Mitchell, Missy Higgins, Regurgitator and Sally Seltmann.
The guide is grouped into six key areas: First Nations first, waste reduction, low carbon transport, sustainable food, ethical merchandise and climate advocacy. Each section has case studies, scientific evidence and simple strategies and advice on how to implement eco-friendly practices.
"Working on Sound Country has been an extraordinary experience and I am blown away by Green Music Australia's desire to reset consciousness around our nation's identity, cultural values and environmental change," said guide author Rhoda Roberts AO.
"We musicians have a pretty ordinary carbon footprint," said acclaimed Australian songwriter/singer David Bridie.
"I genuinely endorse the Sound Country Green Artist Guide as a clear outline by which musicians can learn more about putting into practice clear ways of looking after the planet - substantially reducing our carbon footprint and being aware of the necessary steps we all need to wake up to."
Reducing the environmental impact of the creative industries is a principle of the Victorian Government's Creative State 2025 strategy.