Expert theatre makers, musicians, performers, animators and artists will make their way to schools across Victoria, providing diverse and inspiring learning experiences for Victoria's young minds.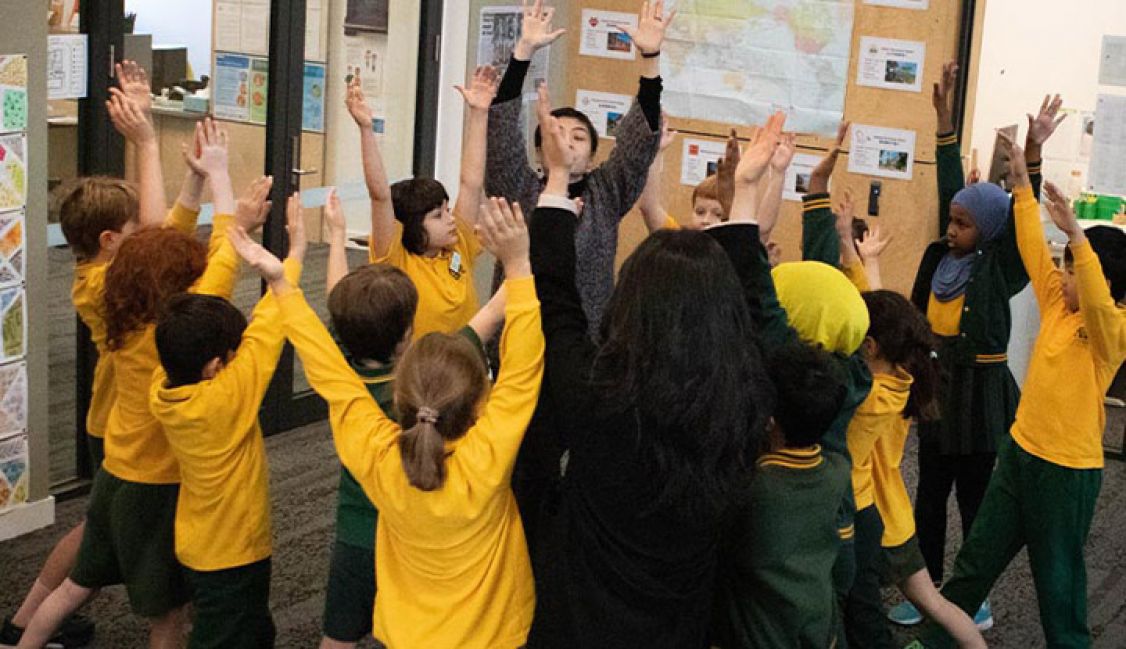 Celebrating 40 years in 2022, Creative Learning Partnerships place artists in residence at primary and secondary schools throughout Victoria, working with students from foundation to Year 10 on creative projects.
Director and producer Ching Ching Ho is participating in this year's program, working with students from Abbotsford Primary School on a creative bilingual project in Mandarin and English.
Other schools are partnering with creatives on projects that explore culture, history, literacy, the environment and more, using creative disciplines including music, storytelling, theatre and costume making, and sculpture.
Bellbrae Primary School will explore local bushland and fauna through drawing, collage and photography, Coburg Primary School will create artworks and costumes while learning about composting, and local Wadawurrung artist Billy Jay O'Toole will give Belmont High School students an insight into First People's culture.
The program has included a range of celebrated Australian artists including Hazel Edwards, prized author of Australian children's book classic, There's a Hippopotamus On Our Roof Eating Cake, who was an artist in residence through the 1980s and early 1990s.
Artists will take up residence at schools in Abbotsford, the Surf Coast, Geelong, Broadmeadows, Cairnlea, Coburg, Melton, Niddrie, Dandenong, Phillip Island, Ballarat, Nerrina, East Gippsland, Bendigo, Horsham, Wodonga and Warrnambool.
Delivered in partnership with the Department of Education and Training, Creative Learning Partnerships provide $315,000 in grants for projects at 19 schools across the state.
Creative Learning Partnerships represents Creative Victoria's longest running grants program with more than 1,500 creatives working at 1,200 schools, bringing creativity to the forefront of learning for 70,000 students since 1982.
Creative Learning Partnerships 2022 recipients
Belmont High School, BELMONT, $10,000
Country
Students will work with local Wadawurrung artist Billy Jay O'Toole and Wadawurrung First Peoples to learn about the meaning of Country, through studying Djilang's (Geelong) history, landscapes and heritage. Students will create murals and an illustrated book, and the local community will be invited to an event.
Abbotsford Primary School, ABBOTSFORD, $10,000
The Abbotsford DNA through Time
Creative professional, independent director and producer Ching Ching Ho works with students to explore storytelling using writing, acting, voice work, movement and puppetry. Integrated images, objects, sound, singing and music will form part of the bilingual (Mandarin and English) performance. This project aims to cultivate positive intercultural curiosity, awareness and understanding of students' living and school environments.
Loreto College, BALLARAT, $10,000
Metamorphosis
Year 8 students work with actor and television producer Marko Jovanovic on a social and performance confidence project. The project aims to support students' transition from home learning 'cocoons' into social creatives by reflecting on what they have learned about themselves during a time of isolation and drawing upon it to deepen their collective understanding. Students will develop interpersonal skills and creative risk taking through collaborative brainstorming and improvisation, culminating in a performance that showcases their journey.
Coburg Primary School, COBURG, $10,000
Compost Kids
Students work with creative producers Mala and Glenn to explore the cycle of life, death, decay and re-birth through compost. Mala and Glenn will expand the students' knowledge of the school garden through interactive visual art, design, building and costume making, with the project culminating in a compost costume parade and dance party for the school community.
Bellbrae Primary School, BELLBRAE, $10,000
An Exploration of Ecological Identity
Students and teachers will be guided by artist Geoffrey Carran to observe and explore local bushland, fauna and art, and to respond through drawing, painting, collage and photography. Students will exhibit their artworks at the Bellbrae student expo. The project forms part of a deeper school conversation about re-connection to community through stories of place.
Melton Secondary College (CaLM Campus), MELTON, $35,000
Circus PLUS!
Students work with creative organisation Dream Big Circus Inc. to explore belonging, celebration and identity by combining circus, music, dance, video, projection, photography and street art. The project aims to encourage students to find their own niche and develop a love of creative self-expression while improving their literacy skills. The project finale will be an exhibition, screening and performance event.
Little Bendigo Primary School, NERRINA, $10,000
Song writing and Recording
Students from Prep to Grade 6 collaborate with professional musician, songwriter and educator Dr Amie Sexton to write and record songs. Students will develop musical and literacy knowledge as musical storytellers, while learning skills in creating, editing, recording and performing. Recordings will be published on the school website.
Newhaven Primary School, NEWHAVEN, $35,000
We are Home
Years 5 and 6 students undertake 'deep mapping' of the local community with creative organisation Kids Thrive and its creative team of photographers and visual, sound and performance artists. Students will explore their emotional, physical and cultural relationship to place and environment, rekindling their sense of connection, belonging and emotional wellbeing. Using senses, memory and imagination, students will develop visual, aural and performative 'maps' of belonging.
Niddrie Autistic School, NIDDRIE, $10,000
"I Feel"
Students work alongside professional actor, theatre maker and teaching artist, Briony Farrell. Through collaborative drawing, storytelling tasks, drama games and sensory play experiences, students will discover various ways of transforming the internal world of their emotions into colour, shape, movement, sound, language and character. The project culminates in a performance for family and caregivers.
Tambo Upper Primary School, TAMBO UPPER, $10,000
Wall of Hope
Tambo Upper Primary School is located in an area subjected to both the Black Summer bushfires and floods. For their project, students will work with artist Simon White to explore art and creativity with a focus on hope and overcoming adversity. Students will be asked to reflect on what their school community has meant to them during difficult times, and their ideas will be represented in a mural. The school will host a community event to celebrate the artwork.
Bendigo South East Secondary College, FLORA HILL $35,000
Discovering Germany in Bendigo
Students and teachers work with creative organisation The Story Players to explore the history of German immigrants in Bendigo. German residents connected to the region will be invited to share their stories which will inform the development of a German language theatre performance. The project aims to boost confidence and skills of students learning German by integrating drama and storytelling with language.
Belvoir Wodonga Special Developmental School, WODONGA, $35,000
A Land of Snow and Ice
Students work with creative organisation Hothouse Theatre to explore wildlife of the Arctic, the Svalbard Global Seed Bank program and the impacts of climate change through immersive and sensory theatre. Students will learn about effective action for sustainability as they collect and use recycled materials throughout the project, to create an immersive theatre set for a performance for school peers.
Wodonga Senior Secondary College – Shepparton Flexible Learning Centre, SHEPPARTON, $10,000
Dare to Animate
Students work with creative Annette Walton-Guerin to explore ways that animation and film can be used to share stories about identity and belonging. The project aims to give students a sense of agency, while improving their oral, visual, text-based and ICT literacy. Student animations will be showcased at a celebratory event at the school.
Horsham College, HORSHAM, $10,000
Sculpture with Donel Molloy-Drum
Year 7 to 10 students work with artist Donel Molloy-Drum to create sculptures, drawing inspiration from the local landscape as well as their local gallery and Donel Molloy-Drum's workshop. Students will be challenged to explore how cardboard and paper can be manipulated into sculptural forms before co-designing works for an exhibition themed around "permanence and impermanence". A group of students will progress to collectively consider a permanent work of wood and metal.
St Peters School, LONG GULLY, $10,000
Digital Storytelling
Students explore aspects of their own identity, backgrounds and cultural values, and how they are connected as a school and wider community. Under the guidance of creative partner, Vern Hardie of The Connected Circus, students will investigate how light, movement, sound and colour express emotions and tell meaningful narratives to create a digital artefact using a range of technologies, including film making, photography and podcasting to be presented as audio-visual exhibition for the school community.
Hampton Park Secondary College, HAMPTON PARK, $10,000
Heartbeat Rhythms
Students work with ensemble and recording musician Djulz Jade Chambers on a music and wellbeing project. This project draws together deep listening practices, immersion in nature, movement and drumming practices to explore the unity we share with the natural world and each other. Learnings will be showcased through a performance for the wider school community.
Broadmeadows Special Developmental School, BROADMEADOWS, $10,000
Home
Students work with creative professional, Natalie Estay Valenzuela to explore culture, identity, place, home and tradition, with the aim of celebrating the school community and its diversity. The project will question the concept of 'home' and its meaning to students, through textile design, painting and screen printing and culminates in an exhibition of their discoveries.
Warrnambool College (WAVE Campus), WARRNAMBOOL, $35,000
Ride the Creative WAVE
Students partner with local creative organisation One Day Studios to explore storytelling. Students will focus on traditional and digital literacy through writing and communicating their ideas using technology. Students will also develop skills in game design and digital platforms. The project aims to provide career pathway skills and learning in creative technologies.
Cairnlea Park Primary School, CAIRNLEA, $10,000
Big Words
Students work with multi-media environmental artist Joanne Mott to investigate the power of words. Utilising a range of sculpture techniques and mediums, students will make site-based artworks across the school grounds to test whether the meanings and materiality of sculpted words can inspire positive thoughts, help us feel, or change someone's mindset. Through a collaborative process of delving into the power of words, students will become agents of positive change for both themselves and others.