Alice Creswick loved picnics. The wilds of Heidelberg, not far from her grand old house in Hawthorn, and the moody bush around Ferntree Gully were favourite spots to snap open her parasol and take lunch with friends in the eucalypt-scented summer air. Later she'd strike out in her dainty silk shoes, skirts dragging - inevitably ripping - in the dust and grass for a stroll by the Yarra river or into the sunlit bush.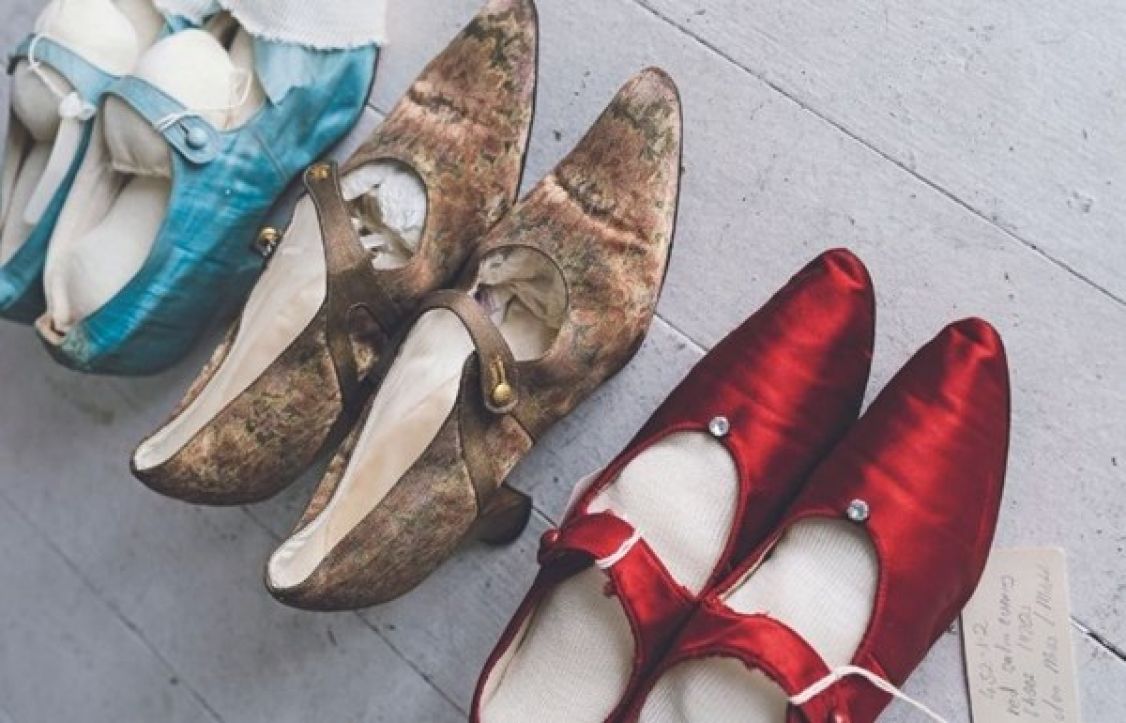 The National Trust of Australia (Victoria) (NTAV) knows all about Alice because although she drifted through the bush on her picnics 150-odd years ago, the organisation has her frock. Her hail-spotted midnight silk gown with its practical polished cotton lining, designed and sewn by Mrs. Kate Eeles of Collins Street Melbourne. It is in the NTAV's permanent collection and, like every one of the 5000 garments and accessories the trust has carefully collected by donations and research, it resonates with the life of its original owner.
"All our clothes have stories," says the NTAV's executive manager, collections and cultural projects, Dr Annette Shiell, "They're worn by real people and when they're handled under curatorial conditions, we can turn them inside out and really look at their construction and how they've been patched and mended and I can tell you, we do go down some amazing rabbit holes. And this (Alice's gown) was a particularly lovely project and so exciting because they found burrs and seeds still in the hem that could be studied and tracked to what sort of vegetation had been in the area at the time."
According to Sheill, the NTAV's vast heritage costume collection of garments, shoes, parasols, sewing patterns and paraphernalia resonates with marvellous stories and information, a priceless resource overdue for a proper home in which it can be preserved in controlled conditions.
"At the moment everything is stored in what we call microclimates: archival boxes within archival tissue at (heritage property) Labassa (Mansion) which is a very solid building and visually amazing, but not ideal," she says, "We're working with various groups and we've established a taskforce; we want to find a new home."
The collection, like the NTAV, is self-funded, and dates as far back as 1720. By Sheill's reckoning, its strongest and most fascinating seam of family and social histories runs through the gold-rush and land boom eras of the mid to late 1800s but it pops with other swoon-worthy highlights, including a collection of haute couture embroideries from the 1950s and 1960s and precious examples of wedding fashions, cosmetics and fashion advertising.
"It's the story of Melbourne and Victoria's fashion and social history through clothes," she says "We've had designers, researchers, historians, all sorts of people mine it for information. It's very much Melbourne's collection and people just love it when they have a chance to look closely - under curatorial conditions - and interrogate it for all those wonderful stories."
The collection is accessible only by rare appointment as it undergoes two studies to determine its future. "We've engaged a specialist consultant to do a significant assessment so we know what are the key garments and our strengths, and how we differ from other collections," Sheill says. "And a preventative needs assessment - what needs to be done to ensure the collection can be kept in the best possible condition to maintain its safety and integrity."
Despite the collection's temporary down-time, it's had a year of thrilling initiatives squeezed in before and between lockdowns. "Costume Lab" was a collaboration with University of Melbourne's Grimwade Centre conservators who worked on delicate treasures at Labassa as public visitors watched. "So many people asked us; "Please, when can you do that again?" laughs Sheill.
And then there was "Vault". The exotic vintage fashion retail outlet opened in Melbourne's historic Block Arcade to sell the many high-end and designer donations that can't, after a curatorial assessment, be absorbed into the permanent costume collection.
"Vault's amazing because these high-end pieces that are donated so generously by people who often still have an emotional attachment to them, are being repurposed, given another life with someone who will cherish them," Shiell says admiringly, "And all the funds come right back into the conservation of the costume collection."
An arrangement surely as elegant and meaningful as Alice Creswick's gown.
Donate or volunteer to the NTAV or visit Vault, Block Arcade, 282 Collins Street, Melbourne (closed Mondays).