Creativity, culture and storytelling are set to brighten up the daily commute like never before with the launch of the 2021 edition of Melbourne Art Trams program, with all six trams designed by First Peoples artists.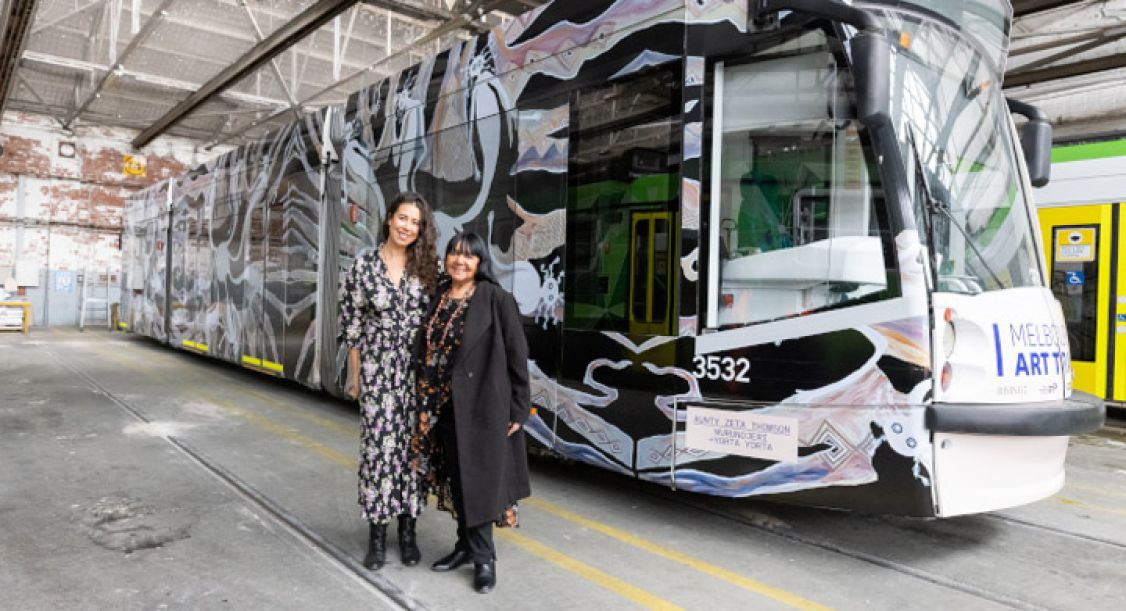 Created by Wurundjeri, Yorta Yorta artist Aunty Zeta Thomson, the moving artwork titled Mookies around the watering hole depicts important cultural practices and storytelling of the Yorta Yorta people and aims to teach respect of Country and honouring Ancestors.
Curated by RISING Artistic Associate Kimberley Moulton (Yorta Yorta) and rolling out over the next two weeks, this is the first time Melbourne Art Trams have had an entirely First Peoples line-up. Trams to follow will showcase the work of Deanne Gilson (Wadawurrung), Thomas Marks (Wotjobaluk, Gunaikurnai), Aunty Rochelle Patten (Yorta Yorta, Dhudhuroa, WembaWemba), Jarra Karalinar Steel (Boonwurrung, WembaWemba) and Ray Thomas (Brabrawooloong Gunnai).
Exploring everything from appreciation of the environment and caring for Country to personal family stories and reflections, the trams celebrate the diverse and expansive histories and cultural heritage of First Peoples in Victoria.
The trams will run on routes across the city for the next 12 months. The Victorian Government has supported the annual Melbourne Art Trams series since 2013 in partnership with Public Transport Victoria and Yarra Trams. In 2021 they are presented as part of Melbourne's new RISING festival.
For more on the 2021 RISING Melbourne Art Trams and the artists behind them, visit https://rising.melbourne/festival-program/melbourne-art-trams