The first round of producers to take part in the Victorian Independent Producers Initiative have been announced, with resilience and sustainability their key focus areas as they prepare to take their businesses to the next level and support the independent performing arts sector to emerge from the coronavirus crisis.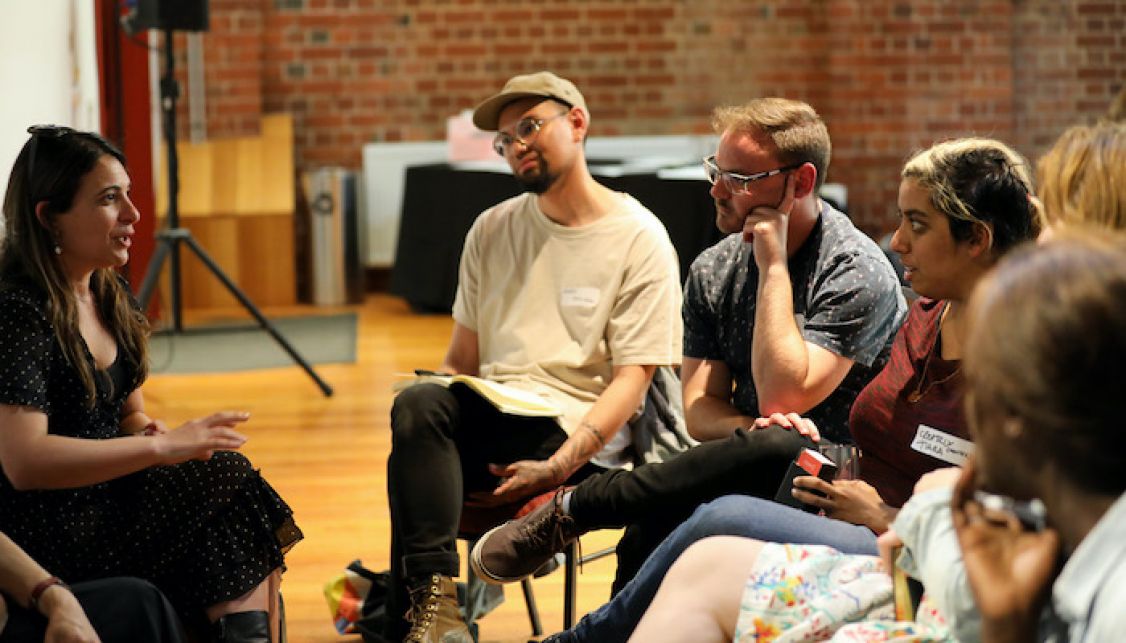 The Victorian Independent Producers Initiative is a Victorian Government program, delivered in partnership with Theatre Network Australia, that recognises the vital role that producers play in the careers of performing artists and addresses the dearth of independent producers in Australia.
The program invests in established producers to grow their businesses, and up-and-coming producers to develop their skills and build their careers.
Three experienced producers will each receive $35,000 a year for three years through the Unlocking Capacity stream – Erin Milne of contemporary performance company Bureau of Works; Heidi Everett, who works on projects focused on people with diverse experiences of mental health and disability; and production house Quiet Riot, led by Linda Catalano.
A second round of the Unlocking Capacity program will open for applications in the second half of this year.
Recognising that producers require a unique skillset that can only be learned on the job, a mentorship stream will support four emerging and mid-career producers to undertake a paid mentorship to learn from, and work alongside, experienced producers for up to two years. The first round of mentees are Joshua Francis, Efren Pamilacan, Natasha Phillips and Naomi Velaphi.
The next round of applications for this category will open in June.
---
VICTORIAN INDEPENDENT PRODUCERS INITIATIVE – ROUND ONE RECIPIENTS
Unlocking Capacity

Erin Milne, Bureau of Works
Erin is an accomplished independent producer whose company, Bureau of Works, is committed to fostering distinctive voices and ambitious ideas. The Unlocking Capacity grant will support Erin to build the company including finding ways to bring her diverse list of collaborators together to share ideas and collaborate. She will also develop a donor circle to support research, development and training activities for her supported artists and continue to build the Bureau of Works' 'Constellation', a network of like-minded producers working locally, nationally and internationally who share knowledge, skills and support artist exchange and collaborations.
Heidi Everett
Heidi is an artist and experienced producer who draws on her own lived experience to support and promote artists with experience of diverse mental health and disability and those from the Deaf community. Through Unlocking Capacity, Heidi will engage a small access team who will assist her to build her business and networks, supporting her attendance and participation in industry and networking events and developing grant applications and budgets for the diverse range of projects she works across. By modelling more accessible ways of working in the performing arts, Heidi's activities will benefit her producing practice and allow her to mentor emerging producers and artists with lived experience of neurodiversity, diverse mental health, disability and those from the Deaf community.
Quiet Riot Led by producer Linda Catalano
Quiet Riot describes itself as an activist production house committed to change. Off the back of a series of successful national and international projects and tours, this investment will support Linda and the team to reestablish Quiet Riot's work in Victoria, working with artists from diverse backgrounds. They will use the time to undertake skills and professional development activities, streamline administration processes, engage a financial consultant, and develop a donor program to support the development of new work.
Producers Mentorship Program, managed by Theatre Network Australia
Joshua Francis, mentored by Nilgün Güven
Josh is a producer and writer who works across artforms with an interest in creating social change and providing sustainable and long-term support for independent artists. Through their mentorship with Turkish-Australian based producer Nilgün Güven, Josh will be researching and strengthening their skills in collaborative ways of working, strategic planning, philanthropy and diversifying income with the aim of ultimately setting up an artist collective or production company.
Efren Pamilacan, mentored by Marcia Ferguson and Freya Waterson
Efren is a dance maker emerging independent producer Under the mentorship of Freya Waterson and Marcia Ferguson, experienced producers who have worked with the likes of Chunky Move, Back to Back Theatre and Born in a Taxi, Efren will build on his producing skills, take part in industry networking and gain valuable industry knowledge through participating in performing arts markets and via simulated producing scenarios.
Natasha Phillips and Naomi Velaphi mentored by Erin Milne
Natasha works across multiple forms of contemporary, experimental theatre and dance with a growing engagement with the Chinese speaking region. Naomi's independent producing practice is driven by cultivating artistic relationships across disciplines with an interest in experimental performance and a focus on building the capacity of artists of colour. Natasha, Naomi and mentor Erin Milne have structured a three-way model of learning to share their knowledge and experience and diversify their practice. They will use the opportunity to bolster the artists they are connected to and work to build sustainable producing practices.