It's not every day that priceless artworks arrive on your doorstep, but in February 2013 a package arrived at Arts Victoria's (now Creative Victoria) front desk, solving a mystery that had played out across Melbourne for close to 30 years. The signature door from Collingwood's Keith Haring mural had been found.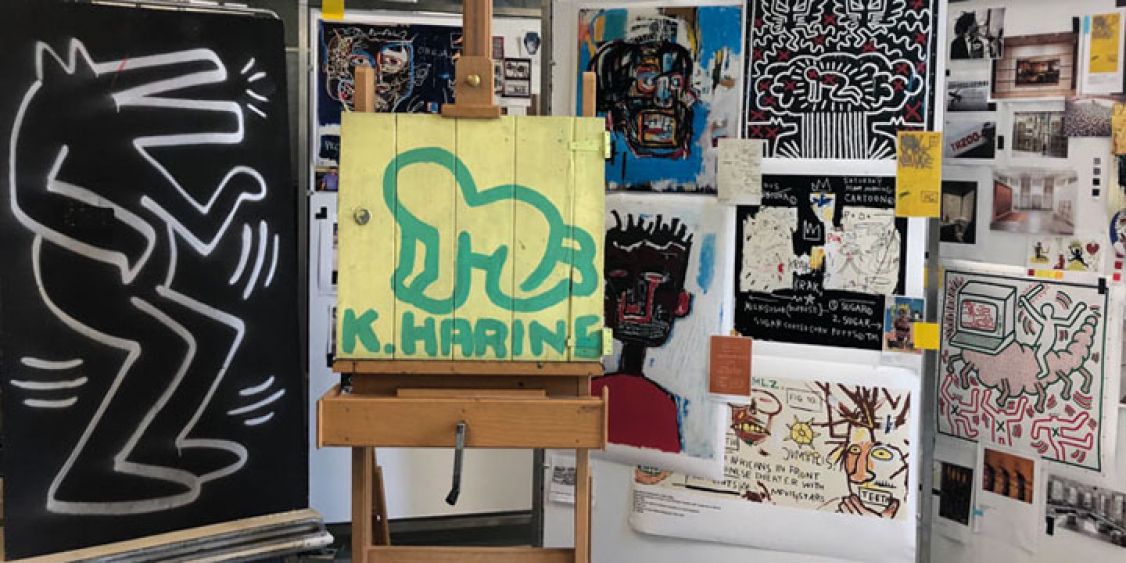 In 1984, on his first and only visit to Australia, US artist Keith Haring completed a mural - the first large scale mural he created outside of the US – at the then Collingwood Technical School (now the site of the Collingwood Arts Precinct). At the base of the wall was a small door where Haring signed off, painting his name and his signature 'radiant baby'.
During Haring's month-long visit, his fame was on the rise and shortly after the mural's creation, the signature door vanished.
When the Victorian Government launched a project to restore the mural in 2012 the door was thought to be forever lost until Jessica Hochberg, an Arts Victoria employee working on the restoration, found an image of the old Collingwood Tech keeper's cottage on Instagram. Alongside the image was a comment from a Melbourne artist Toby Pola who said he once lived there.
After Hochberg reached out to find out more, Pola revealed he'd once met someone at a grand final BBQ who claimed to know the door's whereabouts.
Several emails ensued in the hopes that one would find its way along the chain to the holder of the door. Hochberg promised anonymity in exchange for the door and crossed her fingers.
Months later, the door arrived, wrapped in plastic and in excellent condition. Its location for all those years remains unknown.
The missing piece played an important role in the mural's restoration. Unlike the wall, the paint on the door was still vibrant, having been protected from the elements. It provided a roadmap to ensure that the mural was returned to its original shade.
Due to heritage and security reasons, a replica door was installed at mural's site while the original is now part of the collection at the National Gallery of Victoria.
The door will take pride of place during NGV's blockbuster summer exhibition Keith Haring | Jean-Michel Basquiat: Crossing Lines.
The world-exclusive presentation of Keith Haring | Jean-Michel Basquiat: Crossing Lines, featured more than 300 items from both artists and were on display from 1 December 2019 – 13 April 2020 at NGV International NGV.MELBOURNE.