This survey of Aboriginal contemporary art explores the politics of resistance (2017).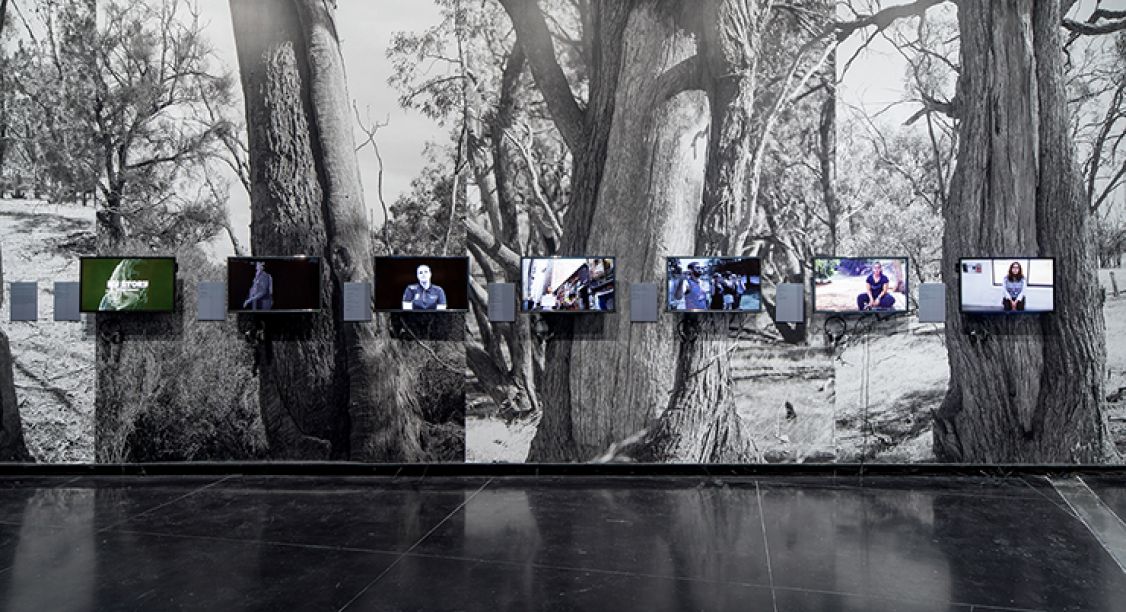 Sovereignty opens with a high definition video. The artist, Gunai man Steaphan Paton, stands in a field in camouflage gear, shooting arrows from a high-tech bow into a distant shield. The film, called Cloaked Combat #2, was shot in East Gippsland, where the Gunai people were dispossessed following brutal colonial incursion and massacres. Is the artist restaging a historical conflict? Or is he still fighting the battle?
Presented by the Australian Centre for Contemporary Art (ACCA), Sovereignty is a survey of contemporary art by First Nations people from southeast Australia exploring Aboriginal identity, self-determination and resistance. It brings together new commissions, recent and historical works by over thirty artists, each of whom has a unique perspective on Indigenous culture and politics.
'The exhibition takes place against a backdrop of debates that are currently taking place from a national perspective, so it gives us an opportunity to engage with critical contemporary and historical issues in Australian society,' says ACCA Artistic Director and CEO Max Delaney. 'This is also a very important moment for Indigenous art practice and creative practice. There has been a wonderful surge of cultural and creative activities taking place in First Nations communities over the last decade, and there's a wonderful younger generation of artists and curators making extraordinary work.'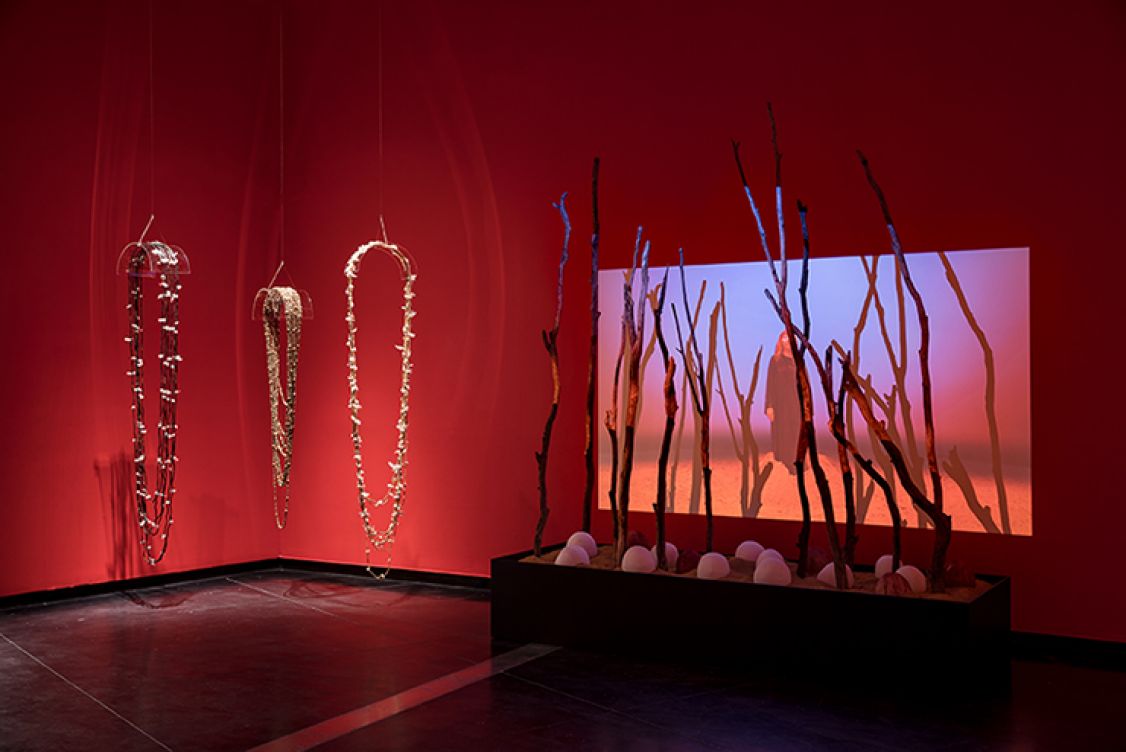 For Paolo Balla, who co-curated Sovereignty and led a curatorial advisory panel of Aboriginal artists and community members, the exhibition presents an opportunity to take control of the conversation. 'As mob we proclaim our 'sovereignty never ceded', at rally after rally, at ceremonies and acknowledgements, in open and closed forums where the personal and political merge,' Balla says. 'In the gallery space and in cultural institutions, we situate ourselves to return the gaze with direct eye contact and a request that you listen to us deeply – whilst we attempt at the same time to subvert the process; to de-colonise and to Indigenise the very places that have represented us through the colonial gaze.'
The ACCA exhibition acknowledges 'sovereignty' as a powerful but fluid concept. 'Sovereignty can be articulated in many ways,' Delaney explains. 'It is, on the one hand, inherent to an individual. Sovereignty has not been ceded by indigenous people, nor is sovereignty something that is granted to colonial powers. Sovereignty is something that can be considered politically, ethically and spiritually. At the heart of sovereignty is an assertion of autonomy, agency and human rights.'
The exhibition uses the work of Wurundjeri leader William Barak as a cornerstone, presenting his Club and Shield (1897) as artefacts of a time when Barak strove to preserve and honour traditional customs in the face of a consuming colonial force. Referendum leader Bill Onus is also represented, with excepts from his home movies (circa 1964) showing the intersection of his personal and political worlds. The films are shown alongside the film Black Fire (1972) by Bill's nephew, Bruce McGuinness, as well as photographs from the collection of Indigenous activist and broadcaster Lisa Bellear.
These historical works are presented as part of a continuum of Aboriginal resistance that includes contemporary artists such as Brooke Andrew and Reko Rennie, and musician and artist Briggs, whose work ranges from the reflective to the confrontational. Sovereignty also reaches out into community and craft, including works like Glenda Nicholls' award-winning triptych of woven net cloaks, A woman's right of passage (2015) and two raffia eel traps by Bronwyn Razem.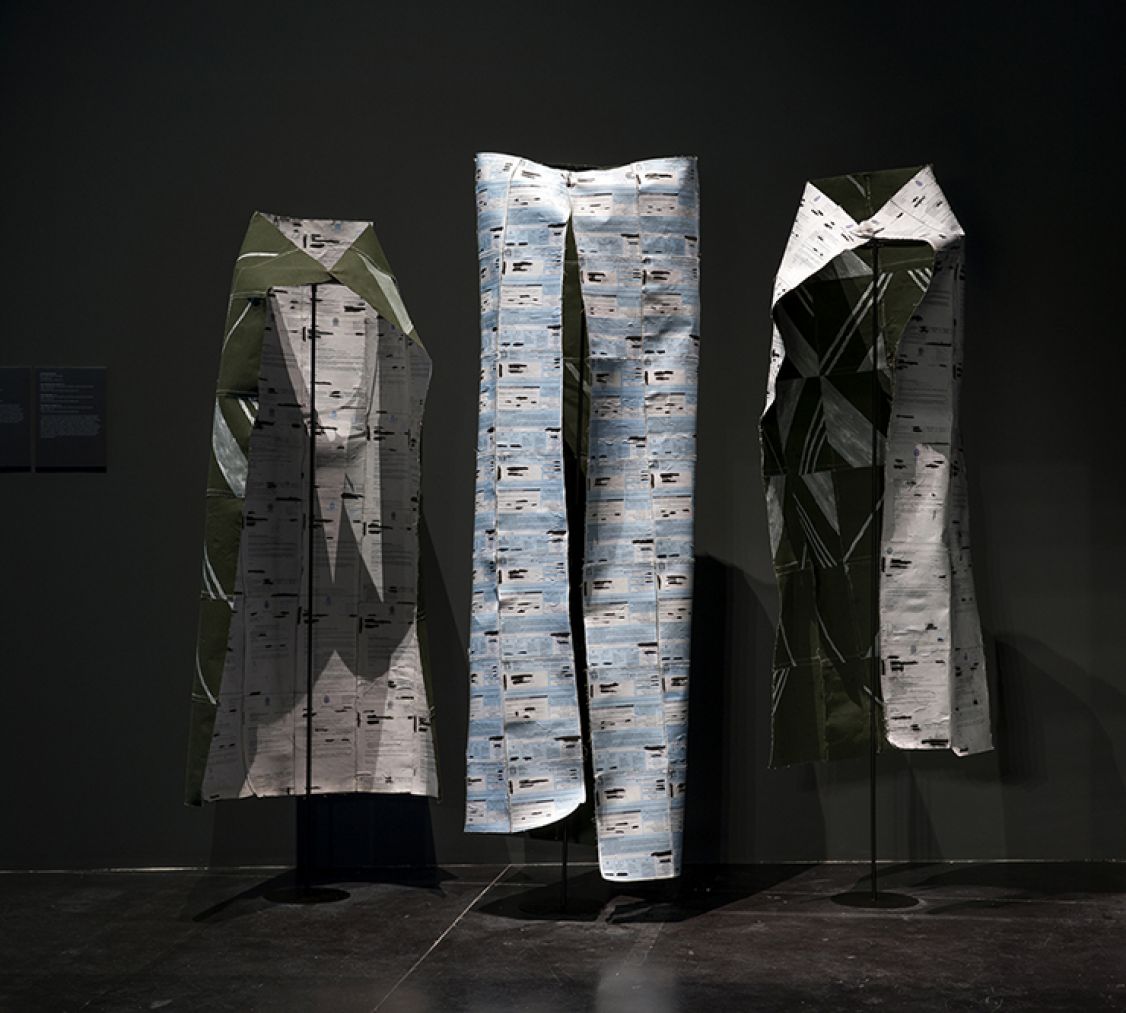 'Within Sovereignty, we see a matriarchal space and the work of women woven throughout the narrative of the exhibition,' Balla explains, 'From the depiction of events in Marlene Gilson's history paintings of Batman's 'treaty' with the Wurundjeri of the Kulin Nation, and her moving depiction of the public execution of Tunnerminnerwait and Maulboyheenner, to Megan Cope's inverted protest placards in which she subverts the explicit and disturbing racism expressed by white Australia on a daily basis, particularly through social and mainstream media.'
'What's really rich and rewarding about the exhibition is the way that art and society, community and family, history and contemporary cultural politics are inevitably entwined,' Delaney adds. He is particularly proud of the inclusion of films made at The Korin Gamadji Institute, Richmond Football Club's centre for Indigenous identity.The young adult filmmakers come from a great diversity of contexts. 'Many of them are strongly connected to their cultural heritage and country, and there are others who are only recently engaging with their cultural heritage,' he says.
The ambition of Sovereignty is to represent a range of political contexts across generations, but also to drive the conversation forward. 'We want to create opportunities for Indigenous artists to be involved in a wider cultural process through their art practice,' Delaney says, 'And for their art to have an impact in the world.'
'To be sovereign is in fact to act with love and resistance simultaneously,' Balla declares. 'Uncle Banjo Clarke, the late Gunditjmara statesman, said we must 'fight hate with love.' If there is a thread that connects all the artists across the wide diversity of practices represented in Sovereignty it is this deep love for family, for truth telling and for beauty.'