Since 2013, during Melbourne Festival, Melbourne's iconic tram network transforms into a moving art gallery. Since making its debut, the annual Melbourne Art Trams project has showcased the work of over 30 local artists working across a variety of disciplines, bringing their vibrant designs to commuters on tram routes all over the city.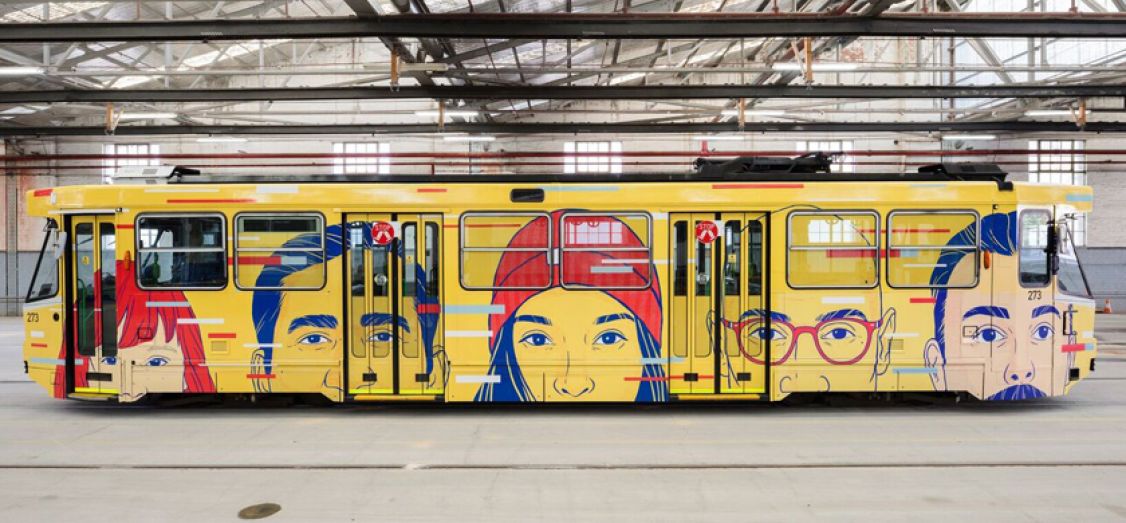 Melbourne Art Trams is a reimagining of the Transporting Art program which ran from 1978 to 1993. Over the years 36 W-class trams were reimagined by contemporary artists such as Mirka Mora, Michael Leunig, Howard Arkley and Reg Mombassa. While these early trams were painted, the modern designs are printed onto customised vinyl wraparounds that can withstand the elements for the six months that the trams are on the tracks.
Artists are selected from an open call each year. Around six works from established artists are selected, along with one by an emerging artist. Though they respond to a broad theme each year, the art trams and their inspiration have been diverse. In 2016 one tram paid tribute to the historical Smith Street Women's Mural after it was vandalised beyond repair. The original artists, Eve Glenn and Megan Evans, reconfigured elements from the mural to create their tram design.
Of course, public transport is for the people, and so every year one of the artists receives a $5,000 People's Choice Award, as voted by art-loving, tram-hopping passengers.
Melbourne Art Trams is a creative partnership between Melbourne Festival, Creative Victoria and Public Transport Victoria in collaboration with Yarra Trams.
2017 series Art Tram
2016 series Art Tram
2015 series Art Tram
2014 series Art Tram
2013 series Art Tram