Victoria's creative industries make a significant contribution to the state economy. Read on for data on economic impact, employment and creative business.
---
The creative sector employs 9 per cent of the total workforce in Victoria.
The Australian Bureau of Statistics' Labour Force data shows that between 2019 and 2022 the number of people working in the state's creative industries increased.
---
Highlights
August 2021 – August 2022
316,000* Average number employed in creative/cultural activities as their primary job
9.0% Creative sector workers as a % of total employment across Victoria
2.9% Increase in creative industry employment from August 2021 to August 2022
2.5% Total increase in Victorian employment over the same period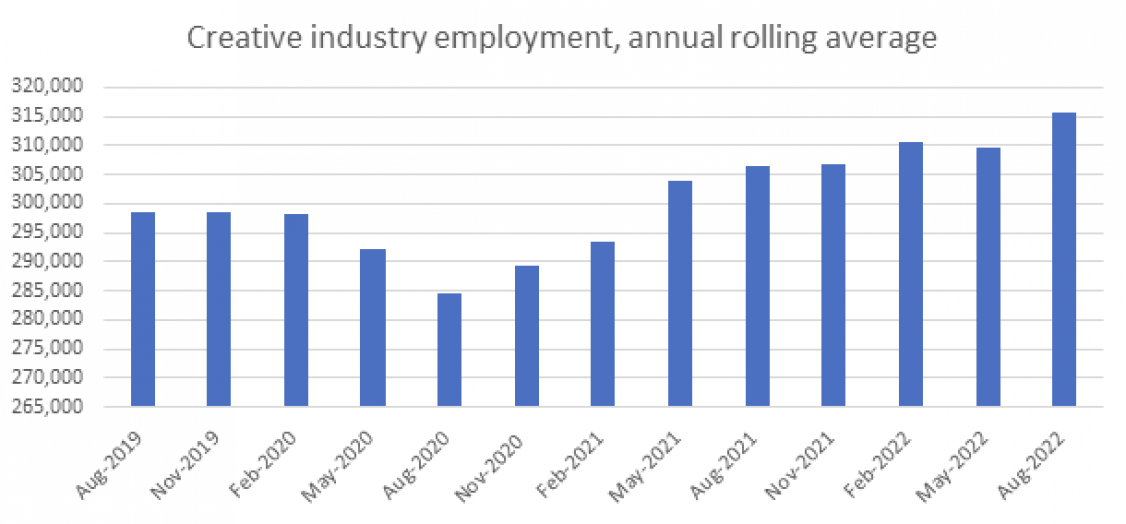 * Includes 234,000 working directly in creative and cultural industries plus 82,000 occupational creatives working in non-creative industries, e.g., graphic designer working in a hospital (captured under heath sector) or local government officer administering creative grants (captured in professional, scientific and technical services (26% of the creative industries workforce was classified as embedded).
Note: ABS Labour Force data; a rolling average over four quarters, from August 2021 to August 2022.